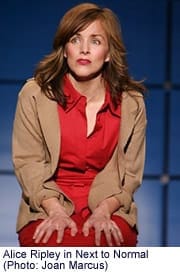 Joel Markowitz sat down with Alice Ripley in her dressing room at Arena Stage prior to the December 16th evening performance of Next To Normal. They discussed her role as Diana, the changes that were made for the Arena Stage production, the "Costco" song and "I Miss The Mountains," working with Brian d'Arcy James in the NY show " … what every leading lady wishes. You could just stand and watch him sing to you every night. It's a really wonderful thing.", her NYC cast now at Arena Stage and new cast members Louis Hobson and J. Robert Spencer ""…He is so tall like a pine tree-something that shields you from the elements, something you can lean on…he has a great rock voice. He's different from Brian in every way, and that's why it works.",  her theatre career, and great advice that the late Robert Prosky gave her when she met him working on Shakespeare in Hollywood at Arena Stage.
DC theatregoers have seen some of Alice's best work on our local stages. Alice was nominated for two Helen Hayes Awards in 2003 for her performances of "manic" Amy in Company, at the Sondheim Festival, and as Emma in Andrew Lloyd Webber's Tell Me On A Sunday, both at the Kennedy Center. The following year, in 2004, she was nominated for her performance as Lydia Lansing in Arena Stage's production of Shakespeare in Hollywood. But it's Alice Ripley's mesmerizing performance of Diana Goodman in Arena Stage's powerful production of Next To Normal, that has the local critics raving.
Joel has been an Alice Ripley fan since he saw her play the roles of Mrs. Walker in the Who's Tommy, Betty Schaefer in Sunset Boulevard,  and Fantine in Les Miserables on Broadway.  But, after seeing her "joint" Tony Award nominated performance as Violet Hilton (with Emily Skinner) in Side Show, Joel turned into an Alice Ripley groupie. Joel returned to NYC to catch her performances of Molly Ivors in The Dead and Janet in The Rocky Horror Show, as well as attend many concerts where Alice appeared. His love and respect for Alice Ripley shines in this podcast.