I was warned by the press representative that the press room at The Drama Desk Awards was going to be a "zoo." Nothing prepared me for the battling photographers, the screaming of "Can you please move to the right? Can you please move to the left? Can you move to the center?" and the pushing and shoving that took place at the red carpet ceremonies. It was exciting, frustrating, and exhilarating and I wouldn't have wanted to be anywhere else that night. It was fun standing outside the F.H. LaGuardia Concert Hall at Lincoln Center as the nominees and theatre and film stars arrived, and exciting being in the press room watching the awards on a large TV screen while – at the same time – trying to take pictures for this article and get some of the winners to record a short reaction.
I've always loved and respected The Drama Desk Awards because they honor all of New York theatre – Broadway, Off Broadway, and Off Off Broadway.
I'm not going to lie to you – having DC Theatre Scene represented at this ceremony brought me great pride. I've been working feverishly to try to write about and link the three theatre communities – DC, Philadelphia, and NYC – together. We all have thriving theatre communities and we cast each others' actors in our productions. So, being in the press room that night solidified the fact that DC theatre, DC Theatre Scene, and my work are respected in these other two communities.
Here are interviews I conducted with winners John Kander, Jim Brochu, David Bryan, Montego Glover, and Julian Crouch, and nominee Chad Kimball in the press room.
———–
John Kander on winning with Fred Ebb for Outstanding Lyrics for The Scottsboro Boys:
I met John Kander for the first time when I was invited into his home where he was interviewed by his long-time friend – DCTS columnist Richard Seff, and a little by myself. So it was such a thrill not only to see John win, but to schmooze with him again.
Joel: How does it feel to win an award for best lyrics, which is a first for you?
John: I feel very weird. By Fred's death, he had written about 2/3 of the lyrics and I wrote the rest. I said when I won that Fred must feel real pissed at me now. The piece is so much about itself and the experience that we had writing it, that it's very hard to separate out any of the elements.
Joel: The Scottsboro Boys is coming to The Lyceum on Broadway in October. Are you happy with that?
John: Very much! It's a very old-fashioned looking theatre and it's what our piece requires.
Joel: Thanks for talking with me and congrats!
John: It's always nice talking with you Joel.
———–
Jim Brochu on winning Outstanding Solo Performance for Zero Hour:
I fell in love with Jim Brochu and Steve Schalchlin when I first saw them perform their musical The Big Voice: God or Merman? at the Actor's Temple in NYC. My love and respect for them has grown as I have watched them perform and give so much of their time to performing at so many benefits for charitable causes. Who will ever forget watching Jim Brochu play Zero Mostel, mesmerizing the audiences at Theater J in DC where Zero Hour played before transferring to Off-Broadway. I will never forget the incredibly hilarious podcasts I recorded with Jim and Zero Hour director Piper Laurie back then. (You can hear them here and here).
Watching Jim win the Helen Hayes Award and now the Drama Desk against all the odds – well, how can you not be happy for this man who has been acting for 42 years? I wish you were there in the press room when the press applauded when he won and when he entered the press room. This man is so respected and loved in the theatre community and especially by me – and his Steve.
Joel: Jim Brochu has won again! Congratulations my friend! What are we going to do with you? You're gonna need a new mantle!
Jim: I just don't know. It's just unbelievable!
Joel: You know why you won?
Jim: No…
Joel: Because you gave the performance of a life-time!
Jim: Oh my! And I paint a whole picture during the show!
Joel: And look who was in that category tonight!

Jim: Opposite my friend Theo Bikel, Carrie Fisher, Anna Deavere Smith, Judith Ivey, and Colman Domingo. My heart is still pounding!
Joel: I can hear it! If we sold it by the pound – we'd be rich!
Jim: Thank you doctor. I thank you Joel so much for all of your support and good wishes. And you know how much I am in love with the Washington theatre community. The Washington theatre community is just about the best community ever.
Joel: Anything you want to say to your partner Steve Schalchlin?
Jim: I don't know where he is – we were separated. He's still out there and I'm here. But, I love you Steve, and I thank you for 25 years of support and love that… I'm gonna cry!
———–
David Bryan (winner of Outstanding Music and co-winner with Daryl Waters for the score and orchestrations for Memphis) on working with Chad Kimball and the cast of Memphis: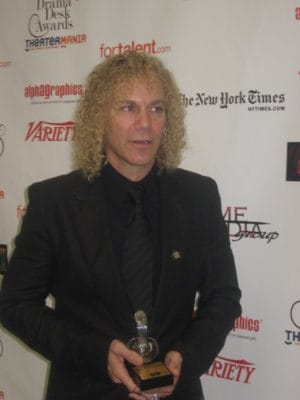 My partner, Alex, and I have seen dozens of shows together and we agree on one thing – Memphis was our favorite, and the fantastic, toe-tapping score by David Bryan, which was sung so beautifully by the entire cast – especially by Chad Kimball and Montego Glover – made us want to travel back to see it again. So here are some comments from David, Chad, and Montego. It was nice to have been the one to break the news to Montego that Memphis had just won Outstanding Musical.
Joel: Talk about the first time Chad Kimball walked into to the Memphis auditions, and why you stayed with Chad when the show made it to Broadway.
David: I am a fiercely loyal human being. I got the script in 2001, and in 2002 we auditioned and I'm a rock guy and when he walked into that room I said, "Ooh, this man can sing rock 'n roll. He gets it!" And I'm a singer, and I put all my passion into him and he got it! I stuck by Chad and stuck by Montego (Glover), J. Bernard Calloway, and James Monroe Inglehart. They all have that power not to sing legit, but to sing rock 'n roll.
Joel: I respect you so much because you didn't cave in to hire all those famous "names".
David: That's the beautiful thing. I don't have to do cave in. I love my cast .
———–
Montego Glover on winning Outstanding Actress in a Musical for her performance in Memphis (tying with Catherine Zeta-Jones for A Little Night Music)
Joel: Congrats on this well-deserved win!
Montego: It was a surprise!
Joel: I first saw your great talent and heard your gorgeous voice when you played Ti Moune in Once on This Island at Round House Theatre in Bethesda, MD.
Montego: It was a dream playing that role at that beautiful theatre.
Joel: When I found out that you were in Memphis with Chad (Kimball) I said, "Oh my God! She's gonna be awesome!"
Montego: Thanks – that's so sweet!
Joel: You just won Outstanding Musical!
Montego: Oh my God! (she shrieks!) You got to be kidding! We are really going to celebrate tonight!
———–
Chad Kimball on Memphis winning Outstanding Musical
Joel: This must have been a crazy day for you.
Chad: I had no time for the jitters before this ceremony. I had a matinee today and almost forgot about The Drama Desk Awards, I knew about it when I got to the theatre and did my performance, and got busy, and at intermission I said, I got to go home and get dressed for this. Then I started getting a little nervous.
Joel: Tell us about that moment when the envelope was opened and it was announced that Memphis had won Outstanding Musical?
Chad: I was a little nervous about that – with all many other nominees – but it didn't surprise me.
Joel: How will you celebrate?
Chad: My celebration includes three pillows and a mattress I am still not used to. I will spend my night getting some well-needed sleep. I am going to call a few friends to see if we can hook up.
Joel: Congrats, my friend!
Chad: So glad you were here. It's always nice to see you.
———–
Julian Crouch on winning the Outstanding Set Design award for The Addams Family (shared with Basil Twist and Phelim McDermott)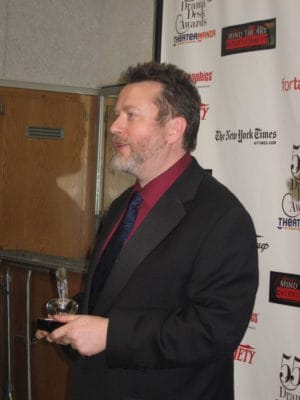 The most amazing set that I have ever seen for a musical production is the one created for The Addams Family, and I was ecstatic that Julian Crouch and his colleagues who designed this ingenious set – were awarded the Drama Desk.
Joel: Congratulations on winning for your incredible set design. Tell us about the set.
Julian: We were working from those original cartoons that Charles Adams did, so he deserves some of the credit. That's such a famous cast of characters. The challenge was to do honor to that, but also to bring something new to it. We wanted it to be funny and we wanted it to be beautiful.
Joel: I kept asking myself during the show, "How the hell did they do that?"
Julian: Well you know Joel – I've worked with improvisers a lot, and when you are doing a new Broadway show, you know it's going to change a lot in its development.
Joel: You need to change it so you give the audience a reason to come see something new.
Julian: I put a kit together. I looked through all those Addams Family things, and built the shutters and staircases, and I felt that The Addams Family should have an old-fashioned look to them.
Joel: How much did the set change from its tryout in Chicago to what we see now on Broadway?
Julian: Almost nothing changed. The set worked out well. It was one of the easiest parts of the show I think. I think I did a good job of it. I am very pleased. We've added a new element to the crypt, because there was a new storyline with the Addams' ancestors. Besides that, everything was the same.
Joel: How many people does it take backstage to make this set work properly during the show?
Julian: I actually don't know. The ensemble moves some of it, and they do the puppetry. They are really spectacular. There's not as much as you think. It's simpler than it looks. People are better than machines. Machines do break and they don't seem to be getting any better. With people, with each show they get better. In our show, it became integral with the plot.
Joel: I left the show and said, "Wow! That was some amazing set!"
Julian: Thanks. I just moved here and am available for more work.
Joel: I'm sure you'll be getting some calls. Come to DC!
Julian: I have done some work there, and I will look at your site, and hopefully will see you there.
You can view my pictures of the press room activities at this year's Drama Desk Awards here.
Congratulations to everyone.
2009/2010 DRAMA DESK AWARD WINNERS
| | |
| --- | --- |
| Outstanding Play: | Red by John Logan |
| Outstanding Musical: | Memphis |
| Outstanding Revival of a Play (A Tie): | A View from the Bridge and Fences |
| Outstanding Revival of a Musical: | La Cage Aux Folles |
| Outstanding Actor in a Play: | Liev Schreiber (A View from the Bridge) |
| Outstanding Actress in a Play: | Jan Maxwell (The Royal Family) |
| Outstanding Actor in a Musical: | Douglas Hodge (La Cage Aux Folles) |
| Outstanding Actress in a Musical: (A Tie) | Catherine Zeta Jones (A Little Night Music) and Montego Glover (Memphis) |
| Outstanding Featured Actor in a Play: | Santino Fontana (Brighton Beach Memoirs) |
| Outstanding Featured Actress in a Play: | Viola Davis (Fences) |
| Outstanding Featured Actor in a Musical: | Christopher Fitzgerald (Finian's Rainbow) |
| Outstanding Featured Actress in a Musical: | Katie Finneran (Promises, Promises) |
| Outstanding Director of a Play: | Michael Grandage (Red) |
| Outstanding Director of a Musical: | Michael Mayer (American Idiot) |
| Outstanding Choreography: | Twyla Tharp (Come Fly Away) |
| Outstanding Music: | David Bryan (Memphis) |
| Outstanding Lyrics: | John Kander & Fred Ebb (The Scottsboro Boys) |
| Outstanding Book of a Musical: | Alex Timbers (Bloody Bloody Andrew Jackson) |
| Outstanding Orchestrations: | Daryl Waters & David Bryan (Memphis) |
| Outstanding Musical Revue: | Sondheim on Sondheim |
| Outstanding Music in a Play: | Branford Marsalis (Fences) |
| Outstanding Set Design: | Phelim McDermott, Julian Crouch & Basil Twist (The Addams Family) |
| Outstanding Costume Design: | Matthew Wright (La Cage Aux Folles) |
| Outstanding Lighting Design: | Neil Austin (Red) |
| Outstanding Sound Design in a Musical: | Acme Sound Partners (Ragtime) |
| Outstanding Sound Design in a Play: | Fitz Patton (When The Rain Stops Falling) |
| Outstanding Solo Performance: | Jim Brochu (Zero Hour) |
| Unique Theatrical Experience: | Love, Loss, and What I Wore |
| Outstanding Ensemble Awards: | Circle Mirror Transformation and The Temperamentals |
In addition, the following non-competitive awards were presented:
To the cast, creative team and producers of Horton Foote's epic The Orphan's Home Cycle: The Drama Desk salutes the breadth of vision, which inspired the exceptional direction, performances, sets, lighting, costumes, music and sound that made it the theatrical event for this season.
To Jerry Herman for enchanting and dazzling audiences with his exuberant music for more than half a century.
To Godlight Theatre Company for consistent originality and excellence in dramatizing modern literature, and especially for the vibrant theatricality of its innovative productions.
To Ma-Yi Theater Company for more than two decades of excellence and for nurturing Asian-American voices in stylistically varied and engaging theater.