Jonathan Tolins is a gifted playwright who has stayed pretty much in his own personal backyard in tackling his issues of the day. The Twilight of the Golds introduced him to me seventeen years ago when it featured Jennifer Grey on Broadway for a short run. As I recall, it showed great promise and was a near-miss. Then, ten years later, The Last Sunday In June was nominated for a Gladd Media Award  in an off Broadway production that ran for three months with an excellent cast which featured Arnie Burton (recently so good in The 39 Steps.) In 1999, another play, If Memory Serves ran briefly starring Elizabeth Ashley at the Promenade off Broadway under the direction of Leonard Foglia.
Now comes what is his best play, Secrets of the Trade, again visiting Tolins' world of  New York, theatre, Jewish family life, the underground gay life of the 1980s.  And again he proves he is a playwright, one who knows how to create interesting characters to populate an interesting story, one we've not quite heard before.
In this instance, 16 year old Andrew Lippman is on a journey of discovery. At 16, he knows he wants a life in the theatre, but that's about all he does know about himself. For a refreshing change it's his father who is more encouraging than his very loving but very practical mother. On his own, Andy writes a letter to an idol of his, a major writer/director called Martin Kerner. We hear the letter read aloud to us by Andy as we see Kerner himself reading it, with appropriate reactions as it tells us much about Andy, his passions, his dedication, his joy, his fear, his youth and inexperience. We follow this relationship as well as Andy's with his family for the next 10 years, until he is 26.  Good writing, this – and very well played by Noah Robbins as "Andy" and John Glover as "Kerner". His parents, played with skill and variety by Mark Nelson and Amy Aquino, round out the cast with "Bradley" as played to perfection by Bill Brochtrup whom you may well remember from "NYPD Blue" in which he spent seven seasons as PAA John Irvin.
The first act of this 2 ½ hour comedy zooms by and leaves us hanging. It satisfies the basic requirements of good playwrighting – it puts a character up a tree, leaves him there, then gets him down. That used to be spread over three acts, now we're lucky if we get two.  We were lucky: we got two.
Alas the second act seem stuffed with too many issues all screaming for a hearing.  But it was well staged by Matt Shakman  (artistic director of the Black Dahlia Theatre in Los Angeles) with a minimum set and some deft directorial touches. I particularly liked his use of two of the actors tripling  into other small roles, offering advice to young actors out front on how to subtly shift characters around using the same face and body with which they were endowed. But a dramaturg might have come in handy, for the second act is long and cluttered, dealing as it does with "coming out problems," parental confrontation, enough self involvement to hurt those who love them most, the painful adjustment to betrayal, the frustrations of ambition, all secrets of the trade.  That's a lot  for one act to handle adroitly.  The writing itself is fine, filled with surprises, good use of language to define character, vividly descriptive. But the play in my opinion needs pruning.
In any event, I found it rewarding and in most instances  it delivers what it promises.
My advice:  Make a few less of them.
————-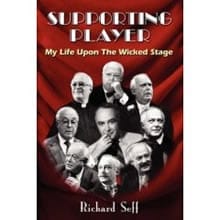 Richard Seff has written the book for Shine! The Horatio Alger Musical!, making its debut at the Theater at St. Clements Oct 7 – 17, 2010 as part of the 2010 New York Musical Theatre Festival.
He is also author of Supporting Player: My Life Upon the Wicked Stage celebrating his lifetime on stage and behind the scenes, available through online booksellers, including Amazon.com.
Richard Seff chats with Joel Markowitz: