Until September 12th at Toby's Dinner Theatre of Baltimore, Matthew Schleigh is re-rocking the house in his Helen Hayes Award-winning performance as the late-great Buddy Holly and Ray Hatch is not only recreating the bundle of energy MC at the Apollo in Buddy—The Buddy Holly Story, but he is also co-directing with Toby Orenstein and providing the choreography.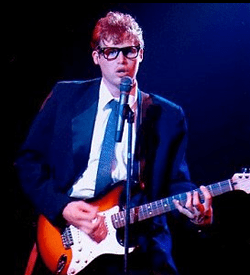 Matthew Schleigh (Buddy Holly):
Joel: What is Buddy–The Buddy Holly Story about?
Matthew: Buddy… tells the story of the short but prolific career of Buddy Holly, one of rock and roll's early pioneers. It follows Holly from his hometown of Lubbock, Texas, to pitfalls in Nashville, encouragement in Clovis, and success and stardom throughout the country. We glimpse into his collaboration with his band, The Crickets, and his producer, Norman Petty; his quick courtship and marriage to Maria Elena Santiago; and an interpretation of that fateful night in Clear Lake, Iowa, where Buddy performed his final concert alongside Ritchie Valens and the Big Bopper. Throughout, we're entertained to no less than 15 of Holly's greatest tunes, many of which are showcased in that famous Surf Ballroom concert, all played by Buddy and the band themselves, live onstage. It's about a young man who wants nothing else but to play his music his way, and underneath it all, it's about rock and roll.
Joel: This is the third production of Buddy–The Buddy Holly Story at Toby's. Where were the other two and where is this one?
Matthew: Our current production is featured at the Baltimore location, while the previous two were both staged in Columbia.
Joel: Why do you enjoy playing Buddy Holly?
Matthew: It's obvious really: sex, drugs, and rock and roll! Kidding…  Buddy is really a play with music, as opposed to a more traditional musical. Most patrons are coming to hear just the songs, so the challenge is to make the scenes gripping enough that they'll want to wait around for the big concert sections. For me, that's exactly what's enjoyable about the piece.
Joel: What research did you do for the role?

Matthew: By research, do you mean getting a hair perm for the front of my melon? I'm still haunted by offstage pictures from that first summer… My first concern was sounding like Buddy Holly. During the first production four years ago, Shawn Kettering (our director) gave me a CD of all of the tunes we'd be playing in the show in their order. I slipped that into my car stereo and listened wherever I drove. I also found a book called "Remembering Buddy" which looked to be an engaging and concise biography, and from which the writers of the show seemed to base their text. I must have been about five or six when I listened to my dad's old "50's Rock and Roll" cassette tape, which had "That'll Be The Day" as the opening track. I liked the tune, but really hadn't realized how many Holly tunes I knew until rehearsing the show.
Joel: How do you relate to Buddy Holly?
Matthew: Like many rock musicians, I admire Holly's tenacity and integrity. He knew what he wanted and went after it. If nothing else, I think I relate to those passions. I feel an artist should never compromise their integrity and should support other artists who have those same intentions. It takes time to develop a strong positive reputation and seconds to destroy it, as an old saying seems to go. Holly wasn't afraid to fight for his music, and forged ahead into newer musical expressions, when others would have wanted him to play the same old thing.
Joel: How has your performance changed over the three productions?
Matthew: I would hope that my guitar playing has improved! I've always been a rhythm guy primarily, so the lead work of Chuck Berry's "Johnny B. Goode", played in Act 2, usually intimidated me. I feel a bit more confident these days, and if nothing else, my "duck walk" holds up. I'd hope that folks who have seen the Columbia productions would say they see a greater "journey" or "contrast" in the character this go around. Now that it's been a few years, I'm able to explore these lines in fresh new ways. I remember blurting, "Oh, THAT'S what that means!" several times during rehearsals. And I'm not as nervous playing the songs. The guys and I are just jamming, and I'm having more fun than ever.
Joel: You play a mean guitar. What kind of guitar do you play in the show?
Matthew: Spoiler alert! My guitar isn't exactly period… Buddy purists may be upset that I'm using a rosewood instead of a maple neck, but it's the most affordable and best playing guitar I could find. It's still a sunburst Fender Stratocaster like Holly used, just the neck's a bit darker. If anyone wants to buy me a maple necked one, this broke actor will gladly accept!
Joel: Where did you first learn to play the guitar?
Matthew: I picked up my mom's Yamaha acoustic gathering dust in the closet sometime in eighth grade. A buddy of mine taught me basic chords and how to read tablature (sheet-music-for-dummies). From there, I could teach myself on my own time, so long as I could find good enough tabs online. That same friend and I got another friend to form a band in high school.  While we never played outside of a basement, our jams helped lay the foundations for our education.
Joel: Which songs are your favorites and which is most difficult to play?
Matthew: I love playing "Oh Boy!" It's filled with so much energy. It gets the band going, which hopefully gets the audience going, and there's this howl that Buddy screams before the guitar solo that's just brilliant!  "That'll Be The Day" and "Peggy Sue" are favorites too, of course. I wish we played more of "Think It Over," featured during at the beginning of a scene.  It's got a great piano solo, but the writers of the show had other things in mind for the scene, so it's shorter. The most difficult to play is "Heartbeat" in the Surf Ballroom concert. The lead line is played high on the neck of the guitar, and it never sounds as full as I'd like it to be, but that's just the perfectionist in me. Guitarists are unceasingly searching for the "Holy Grail" of tone, and every year I'm finding I'm no different.
Joel: What are you doing next after Buddy?
Matthew: I'm  scheduled to perform in Perseus Bayou and The Wind in the Willows, both at Imagination Stage. I think I'm the villain in Willows, which is very exciting!  I haven't played the bad guy in a while. Besides those, I've a band of my own to promote. We're called The Tryads and we need to find gigs. Anyone out there want a rock band? Shameless plug, but check us out here:
Joel: Why should DC area theatre goers come to Baltimore to see Buddy—The Biddy Holly Story?
Matthew: Three words: Rock. And. Roll. It's that simple! Amidst the various avant-garde and "intellectual" plays and musicals produced right now, take a breather and enjoy some great music played by fantastic musicians. Take advantage of summer before it's over! It's 22 minutes between beltways, which is half the time it takes to drive across DC. And if I did the math, I think I'd shudder at the cost of a trip to New York for bus/train fare, dinner, drinks, AND a show. Why not come to Baltimore instead? And wave to Mr. Boh, he's winkin' at ya to have a good time, hon!
———–
Ray Hatch (The MC at the Apollo, Co-Director/Choreographer):
Joel: This is your 3rd time playing the MC at the Apollo ("Clyde"). Who is this guy?
Ray: He is a composite character of all the late 50's singer/dancer/entertainers of whom I was aware growing up and beyond including James Brown, Little Richard, Jackie Wilson and Screamin' Jay Hawkins – just to name a few.  I choose to call him "Clyde".
Joel: I see a lot of Ray Hatch in The MC ("Clyde"). Am I right?
Ray: Perhaps. I don't really carry myself or sing like Clyde as an individual. I consider myself more to be a crooner than he.  Ray Hatch is not a "screamer" on stage (maybe at a party). One always does one of two things when bringing a character to life: either you become that character or you make that character like yourself. I choose to bring this character to life.
Joel: Why do you enjoy playing The MC?
Ray: More than almost anything else – he's fun.
Joel: How has your performance changed since the first production in Columbia?
Ray: In this particular production; more so than the preceding two in Columbia, I have chosen to take more liberties with his speeches and especially with the melody line(s) of his songs. A lot of that stems from my costume being completely different. I credit that to Ms. Janine Sunday. She gave me a little something with which to work with this time around, and Larry Munsey styled my wig a little more outrageous. The character has gotten to close to behaving like he looks – as far as I am concerned.
Joel: How has the production changed from the first production in-the-round at Columbia, to the Baltimore production on the proscenium stage?
Ray: There are a couple less people in this production and we are also without a pit band for this production in Baltimore. Of course the proscenium stage offers the chance for more elaborate sets than in-the-round if only because of sight lines.  The round offers a 180 degree visual while proscenium is only viewed from the front. Sets are suggested more than actually standing in the round. There can be no walls because of sight lines. One uses door frames as opposed to actual doors and so on.  The use of the revolve in Baltimore is always a plus when used effectively.
Joel: Which stage do you like best  Columbia or Baltimore?
Ray: I have always been partial to Columbia if only because it feels more like home – because I choreographed the very first show that opened the Columbia space back in '79. However, I do like the idea of being able to offer a more elaborate set in Baltimore. I haven't performed on the Columbia stage since All Shook Up – so Baltimore has become more of my "home" by default.
Joel: You are co-directing with Toby Orenstein and choreographing Buddy. What is  your role in co-directing and what is  Toby's role?
Ray: Toby (for good reason) likes to be involved in some way with every aspect of every production that carries her name.  This is only natural – but she is only one person who more than often finds herself needed in several different places all at once. This is part of the price of running two very separate places of business. Hiring others to direct or co-direct shows is one way of freeing herself up a little so that she can come and go a little easier. Toby has always had the distinct ability to instinctively know what the audience wants. She knows what works and what doesn't; especially where the spoken word is concerned. The scene-work needs to ring true no matter how good (or bad) the writing may or may not be. She brings all of her years of training and experience as a teacher and a director to everything she does.
Those of us who have had the pleasure of knowing her since the early days (and I'm talking over 3 decades ago) grew up knowing her strength(s) as a director and teacher of the dramatic. Though musicals are her forte, the text must never be overlooked. Toby directed most of the scenes that contained Buddy and the Crickets when dealing with various producers and disc jockeys. I had the pleasure of directing many of the scenes that contained more characters on stage –  like the backstage scene at the Surf Ballroom and, of course, the Apollo. The choreography was completely my responsibility.  The approach to that was to create a framework that didn't take away from the subject – which of course was Buddy Holly – and his 18 month journey from a wannabe rocker to stardom.
Joel: How do you describe your choreography for the show?
Ray: The choreography is what I like to call "kitchen steps". Kitchen Steps are small, distinct movements that can or could be easily executed while doing whatever in the kitchen; be it cooking, preparing food on the counter, moving back and forth from the refrigerator, going from stove top to oven or just standing at the sink. The choreography should never overshadow what Matt is doing as Buddy. He is the focus of the piece. It should enhance but never suffocate.
The only real choreography takes place during the Second Act in the Surf Ballroom concert. We are his background singers.  The men's choreography differs from the women's in the way that I tried to make subtly gender specific for the era they were created to represent.  The ladies' steps are a little more "girlie" than the men. They have full skirts and crinolines to swish around. The fellas are to compliment them and they are there to compliment Buddy.
My favorite choreography is when we remain on the stage; "Maybe Baby", the first part of "Chantilly Lace", "Peggy Sue Got Married", "Heartbeat" and "La Bamba".  Everything else is pretty much freestyle – especially when we go out into the audience which is designed to get our audience to party on with us. There wasn't really anything that I would consider hard to choreograph. There are no high kicks, turns or splits with the exception of the things I may choose to do as Clyde on any given night and that changes all the time.  This is not choreographed movement.  I do whatever I feel like doing whenever I feel like doing it.  That is the glory of being a solo performer; and there isn't really any right or wrong unless one has absolutely no idea of what they're doing.  Thankfully, I do.
Joel: What is your favorite song in the show, and which scene do you love to watch when you are not on  stage?
Ray: My favorite song is "Party"- the one my character sings at the Apollo – because it's my personal performance. I don't usually watch the show in the wings because I spend the entire first act "becoming Clyde".  I have it timed out to a science.  When my make-up is complete and I am ready, I'm on. The only time I actually watch what's happening on the stage is when I am in a scene or there is an understudy or swing – and even then, it's all according to whether or not I have time to do so.
Joel: You have worked for many years with Toby Orenstein. Tell us about your relationship with her.
Ray: I have known Toby Orenstein since I was recommended to her by a young woman (who was studying at the Columbia School of Theatrical Arts) whom I was in drama class in high school for the Columbia School of Theatrical Arts production of The Me Nobody Knows; over 3 ½ decades ago. The very first show I choreographed for Toby was West Side Story when I was 19. I have no idea how many productions I have been in at Toby's, and I don't  remember how many I have choreographed, but I am sure that the numbers are way into the double digits.
I have only directed one and co-directed two shows with Toby. I left the area to broaden my horizons way back in '88.  During that time (and after receiving my union card) I traveled to New Orleans, lived in Chicago, and resided in Orlando for 15 years where I honed my skills as a director of straight drama and comedy – a form of entertainment that doesn't take place at either of Toby's venues.
I choreographed the latter two Young Columbians shows: Hooray for Hollywood and That's Entertainment back in the '70's , and co-choreographed the second: Young Columbians on Broadway. When I left this area, I was known mostly as a dancer/singer/choreographer and all-around entertainer, but after living in a "right-to-work" state for 15 years and carrying an Equity card, it was necessary to add other skills to my resume, so I became a director and a damned good one, I might add.
I racked up extensive credits in and around the Orlando area with saturated work for the Fringe Festivals each year.
When I chose to relocate back to this area in 2005, I was still remembered mostly as a dancer/choreographer when in my own mind (and according to my personal credits) I had broadened into a rather fine director. Unfortunately, my experiences have shown that the theatrical community in almost any state in the union is a very tight knit family and is very hard to penetrate. I continue to come back here because theatre is simply "what I do" and this is the best and most convenient place to do it without leaving the area. I prefer to stay close to my original home of DC where I still have family. This is my home and this is where I prefer to stay. I am the only one still consistently within the Toby's family from the days when I first started with her.  Another saying is: "You can always come home". I hope this remains true because my plan is to stick around for a while – at least while my 80 year old mother is still alive and kickin'. I have several other organizations with whom I work on an annual basis – which helps to supplement my income. Contrary to popular belief, theatre is not an easy gig. It's a passion. You gotta love it or you're wasting your time.
Joel: What's next for you after Buddy?
Ray: I hope to be in the upcoming production of A Christmas Carol at Toby's Baltimore. I also work with young people at Loyola-Blakefield in Towson – where I have been directing/choreographing their annual musicals for the last 5 years. Their next production will be Children of Eden in March of next year.
Joel: What kind of experience will theatregoers have when they come to Toby's Baltimore to see Buddy…?
Ray: The production is always very well received by the audiences. The wonderful Matt Schleigh is still Buddy Holly and he holds the show together as only he can. He's absolutely marvelous in the role and he, Maria Egler (who plays Maria Elena's aunt), Jessa Coleman (girl singer at the Apollo), and I are the only three cast members who have been in all three productions of Buddy… at Toby's.
I was personally very surprised to realize just how much of Buddy Holly's music I knew without realizing that these songs were actually penned by him. Buddy and the Crickets play all of their songs live in the show. It's like a concert with a little backstory. A theatregoer will thoroughly enjoy the music and learn a little history too. Just in case there are those who didn't know that the song "American Pie" was written about the loss of the Big Bopper, Ritchie Valens, and the great Buddy Holly in that tragic plane crash in '59, they will most definitely leave the theatre with a pure understanding of "The night the music died".
Buddy–The Buddy Holly Story plays through September 12, 2010 at Toby's Dinner Theatre of Baltimore. To make reservations, click here: