Primary Stages is continuing its policy of bringing new works, straight and musical, to the New York stage with In Transit, a small musical with not a lot on its mind. Seven appealing performers sing out its message, which is that we must not worry too much about past or future, we must live in the moment and fully enjoy what's real in our lives. To dreamers who have given years to searching for fulfillment, it offers  "Quit! Give it up! Enjoy what is, not what could be."
To gay men with mothers who would rather 'not know' because knowing would tie them in knots due to religious fervor, it says "let go. Let Mama live in peace. But live your life and let the chips fall where they may." To insecure lovers who would almost lose all because they cannot risk anything, it offers the chance that fate may intervene and help.   All of these characters have been plucked, seemingly at random,  from the millions who ride the subway each day. And out of this familiar material, a group of four composer/lyricists have each contributed to a  simple "book" to interweave a dozen tales from the underground, with a capella singing accompanied only by the incredible sounds made by beat boxer Chesney Snow, who manages to accompany so brilliantly that one doesn't miss the orchestra at all.
The songs range from amusing to wise, and keep the 90 minute one-acter alive for most of the evening. "Getting There", which concludes it, is the best of the lot, for it entertainingly drives home the pervading philosophy that "getting there" (through life) is all that matters, that your life is always 'between stations' and should not be subjected to waiting to arrive.   But a number of other songs, "Maxed Out" (hilarious sketch about credit cards and the new digital world), "No Dental" which shakes up the differences between art and commerce, "Four Days Home" a clever ditty about the agony of trying to fit in back home after 'you've seen Paree"; these are all intellingent and fun.
Denise Summerford makes a most appealing would-be actress who makes it all the way to the third callback for a major role only to lose out to Kelly Ripa because she "sells tickekts."  Ms. Summerford's three numbers are highlights; she has the voice, the control, the acting chops to make it a triple play. It's a fine company of seven, with each contributing in kind.   As the actors' names are not connected to the musical numbers in the program, it's difficult to know exactly who was singing what, so I beg forgiveness from Graham Stevens, Tommar Wilson, Steve French, Hannah Laird and Celisse Henderson for not singling them out. They all together make crystal clear the meaning of the word "ensemble".
The simple set of the subway platform, helped by lights and sounds, and the backbreaking assistance of the cast  in moving pillars, benches and  subway seats lets you know what world you are inhabiting for these 90 minutes. It also shows the new trend of saving big bucks on stagehands by making actors do their own moving. As with all windowless spaces, 90 minutes can be a long, long time – but these seven personable actors singing mostly fresh material make this divertissement a pleasant evening out. Perhaps more suited, pruned, to a cabaret than a proscenium house, but more than acceptable at Off-Broadway prices. The crowd I attended with were doing their share of hootin' and hollerin'. Only a  minority of us more seasoned vets were smiling a lot, and thinking back to the days of Coward, Porter, Rodgers and Hart, Harold Rome, Ben Bagley, Leonard Sillman and others who knew how to shape a revue brilliantly.
In Transit is slightly less consistently brilliant, but it's refreshing to have some contemporary comment on the New York scene circa 2010 served up by a fine bunch of new faces and with engaging music and lyrics.
————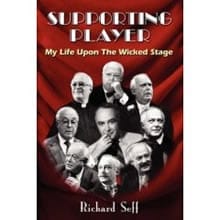 Richard Seff has written the book for Shine! The Horatio Alger Musical!, making its debut at the Theater at St. Clements Oct 7 – 17, 2010 as part of the 2010 New York Musical Theatre Festival.
He is also author of Supporting Player: My Life Upon the Wicked Stage celebrating his lifetime on stage and behind the scenes, available through online booksellers, including Amazon.com.
Richard Seff chats with Joel Markowitz: