Zero complaints about the dance technique in DC Aerial Collective's UPheaval. The women of the Collective are clearly well trained, strong, and fearless performers, capable of feats at which most mere mortals can only wonder.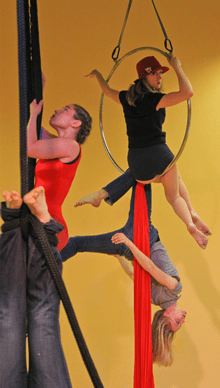 All the trouble with the show stems from some unnecessary accoutrement and bland dramatic structure that the ensemble has chosen with which to package it's most important and successful artistic accomplishment: beautiful bodies twisting and flying through the air.
The Collective is certainly on to something with their work but it feels only half-done in its current incarnation playing at Studio.
Rather than a mere exhibition of technique and form, the Collective has admirably chosen to push their art further and stage their aerial work as the centerpiece of a physical abstraction on troubles faced by the contemporary woman in a hard driving society and other things that can only be described in run on sentences.
Themes of disconnection and unproductive conflict abound. I, uh, think. It's all a little vague. Unfortunately what little narrative and story exist are too simple and the characterization too clichéd to invoke much of an emotional connection to the action on stage, which involves several archetypal women waiting for a bus and how the little conflicts that erupt lead to emotional reflection in the form of some amazing aerial exploits. Again, I think that's what they're going for.
There's the hard-charging businesswoman who wants to be left alone with her laptop and might secretly be a cutter. The harried worrywart who impatiently wants to know when the bus is coming. The heartbroken woman just out of a bad relationship who needs to unburden her soul.  They're all working out their issues and baring their souls in beautiful motion.
And it IS beautiful. Visually. Sadly it's not near so fun to hear. UPheaval is a rare dance piece that is ill-served by live music. Composer and accompanist G.M. Goree unfortunately damages the production with a repetitive and monotonous set of tunes played alternately on electric bass and mandolin. Perhaps switching to acoustic would produce a warmer sound in the Mead Theater? Just my two cents.
When using music elements aside from or in addition to Goree's playing, the show takes off. For instance, the third piece "Le Cygne" featuring aerialists Gwynne Flanagan and Kate Winston also features wonderful vocal accompaniment by the lovely Tara McCredie.
The second piece is by far the highlight of the evening and features that hard-charging business woman (the remarkable EcHO) and the world's most amazing length of red cloth. Entitled "Blood and Tears", EcHO becomes entangled in said blood red cloth and in a series of daring, twisting, seemingly impossible maneuvers, repeatedly escapes only to be entangled once again. It's a stunner.
For a night featuring amazing trapeze and rope acts, UPheaval is a surprisingly somber affair. Kudos to the DC Aerialist Collective for having the artistic integrity to let it all hang out, emotionally speaking, and for having the guts to push a form that might be dismissed as a variety act to new and bold artistic realms.  UPheaval is a show with great potential not yet realized.
UPheaval has 3 more performances in the Mead Theatre at Studio Theatre, 1501 14th Street NW, Washington, DC.
Tickets
Ryan rates this 3 out of 5
Click here for more Fringe reviews