Welcome to this year's Capital Fringe splash page, an easy reference to all of our Fringe coverage throughout the site.
FRESH FRINGE
This year's DCTS Capital Fringe Crew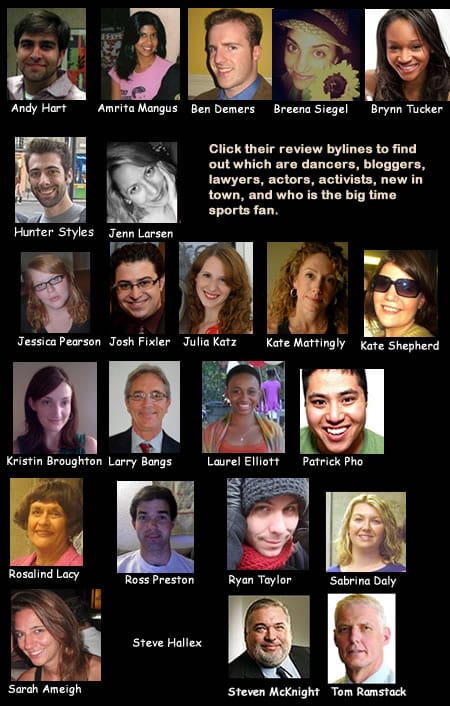 DCTS Features:
2011 Capital Fringe Festival – it's a wrap
e-Geaux (beta) producers talk about their groundbreaking audience app
The art of the Fringe button – an interview with Julianne Brienza
He's a Producer – Charlie Fink on how an AOL guy got in the producing game.
Performer John Feffer: How a respected foreign policy analyst got bit by the Fringe bug.
As the reviews come in, their ranking and a link to the review will appear on the table below. Our writers are rating the shows from a low score of 1 to the Pick of the Fringe score of 5.
Click the down arrows to sort by rating, or alphabetically by show or reviewer.
| DCTS Rating | Show | Reviewer | Buy tickets |
| --- | --- | --- | --- |
| | 261.626 | Josh Fixler | Go |
| | 2nd Annual Fool for All: Tales of Courage and Poultry | Kate Mattingly | Go |
| | 70 Million Tons | Ross Preston | Go |
| | A Day at the Museum | Kate Mattingly | Go |
| | 70 Million Tons">A Piece of Pi | Jenn Larsen | Go |
| | A Wild Play | Sarah Ameigh | Go |
| | A Year of Living Dangerously | Ben Demers | Go |
| | Alice, an Evening with Alice Roosevelt Longworth | Laurel Elliott | Go |
| | An Adult Evening with Shel Silverstein | Brynn Tucker | Go |
| | An Hour with Ken Johnson | Josh Fixler | Go |
| | Apocalypse Story | Ben Demers | Go |
| | Assembly Required: Comedy from A to Y | Sabrina Daly | Go |
| | Belle Parricide | Kate Shepherd | Go |
| | Between Takeoff and Landing | Breena Siegel | Go |
| | Boston Marriage | Sarah Ameigh | Go |
| | But Love is My Middle Name! | Sarah Ameigh | Go |
| | Cabaret XXX: Les Femmes Fatales | Julia Katz | Go |
| | Captain Freedom | Julia Katz | Go |
| | Caught in Dante's Fifth: The Naked Truth of Kindred Spirits | Julia Katz | Go |
| | Cecily and Gwendolyn's Fantastical Capital Balloon Ride | Jenn Larsen | Go |
| | cloudism | Ryan Taylor | Go |
| | CRAVE | Jenn Larsen | Go |
| | Cry for the Gods: The Last Queen of Hawai'i | Laurel Elliott | Go |
| | Cry of the Mountain | Julia Katz | Go |
| | David Mamet's Glengarry Glen Ross | Ross Preston | Go |
| | Destination? Slammer! | Steven McKnight | Go |
| | Divas Just Wanna Have Fun! | Kate Shepherd | Go |
| | e-Geaux (beta) | Sarah Ameigh | Go |
| | Embodying Poe | Jessica Pearson | Go |
| | Enoch Arden | Sarah Ameigh | Go |
| | Every Night I Die | Breena Siegel | Go |
| | F#@KING UP EVERYTHING | Larry Bangs | Go |
| | Fat Men in Skirts | Josh Fixler | Go |
| | Flyboy | Steven McKnight | Go |
| | Foggerty's Fairy | Kate Shepherd | Go |
| | for colored girls who have considered suicide/when the rainbow is enuf | Sarah Ameigh | Go |
| | Gallantry: a Soap Opera in One Act | Ben Demers | Go |
| | Good Girls Don't, but Indian Girls Do | Breena Siegel | Go |
| | GS-14 | Kristin Broughton | Go |
| | Gypsy & the Bully Door | Hunter Styles | Go |
| | Hamlet Reframed | Ross Preston | Go |
| | Hello, Hedgehogs! A Storytelling Show | Kate Mattingly | Go |
| | hookups | Jenn Larsen | Go |
| | Hotel Fuck | Larry Bangs | Go |
| | How to Write a Magic Show! | Tom Ramstack | Go |
| | I Like Nuts! (The Musical) | Andy Hart | Go |
| | I Love You, (We're F*cked) | Ben Demers | Go |
| | I See You | Laurel Elliott | Go |
| | iKilL | Ryan Taylor | Go |
| | Illuminate: A Martial Arts Experience | Kate Mattingly | Go |
| | Illuminopolis | Kate Mattingly | Go |
| | Incurable | Steven McKnight | Go |
| | Insurgent Sonata by Timothy J. Guillot | Brynn Tucker | Go |
| | iToonsical | Sabrina Daly | Go |
| | King Lear | Jessica Pearson | Go |
| | Life Insurance | Julia Katz | Go |
| | life, love, sex, death...and other works in progress (a multi-chakra extravaganza) | Larry Bangs | Go |
| | Live Broadcast | Larry Bangs | Go |
| | Logic, Luck and Love | Julia Katz | Go |
| | Losing My Religion: Confessions of a New Age Refugee | Kristin Broughton | Go |
| | Love Me! Why everyone hates actors | Julia Katz | Go |
| | Manifesto! | Breena Siegel | Go |
| | Match Game DC | Jessica Pearson | Go |
| | Meagan & David's Original Low-Cost Creativity Workshop | Andy Hart | Go |
| | Moby Dick, an Adaptation for Theatre | Kate Shepherd | Go |
| | My Dad is Now Ready for His Spongebath | Andy Hart | Go |
| | My Diamond Jubilee | Breena Siegel | Go |
| | My Name is Pablo Picasso | Kate Mattingly | Go |
| | Night Sky, A New Play | Larry Bangs | Go |
| | On the Rag to Riches | Ryan Taylor | Go |
| | Open Hearts | Larry Bangs | Go |
| | Out of the Shadow | Jessica Pearson | Go |
| | Pandora: A Tragicomic Greek Romp | Steven McKnight | Go |
| | Pascal's Aquarium | Jessica Pearson | Go |
| | Patience | Laurel Elliott | Go |
| | Patrick & Me | Patrick Pho | Go |
| | Pinoy: A 'merican Tale | Sarah Ameigh | Go |
| | Please Don't Beat Me Up: Stories and Artifacts from Adolescence | Julia Katz | Go |
| | Preacherman | Kristin Broughton | Go |
| | Priscilla Dreams the Answer | Josh Fixler | Go |
| | PUN: (n) a play on words | Josh Fixler | Go |
| | Sanyasi | Jenn Larsen | Go |
| | Shall I Compare Thee to a Purple Haze? The Lost Rock Sonnets of William Shakespeare | Steven McKnight | Go |
| | SHE | Julia Katz | Go |
| | Shelter in Place | Amrita Mangus | Go |
| | Sisters of Ellery Hollow | Kate Shepherd | Go |
| | Socrates the Lover | Breena Siegel | Go |
| | Spirit Tales | Breena Siegel | Go |
| | Squirrel, of the Origin of a Species | Steven McKnight | Go |
| | Stanley Ann | Breena Siegel | Go |
| | T-O-T-A-L-L-Y! | Steve Hallex | Go |
| | Table 8 | Tom Ramstack | Go |
| | Tactile Dinner Car | Jenn Larsen | Go |
| | That's What She Sang | Larry Bangs | Go |
| | the agenda | Laurel Elliott | Go |
| | The Audio Files | Andy Hart | Go |
| | The Beasts | Josh Fixler | Go |
| | The Bird | Sarah Ameigh | Go |
| | The Foo Fah Show | Amrita Mangus | Go |
| | The Little Differences, or The Monster | Sabrina Daly | Go |
| | The Magical Marriage Computer and Other Plays | Julia Katz | Go |
| | The Malachite Palace | Jenn Larsen | Go |
| | The Man in the Arena | Jessica Pearson | Go |
| | The Many Women of Troy | Ross Preston | Go |
| | The Morphine Diaries | Steve Hallex | Go |
| | The N Word? | Amitra Mangus | Go |
| | The Oregon Trail: The Quest for the West! | Ryan Taylor | Go |
| | The Road to Nowhere | Tom Ramstack | Go |
| | The Shrewing of the Tamed | Rosalind Lacy | Go |
| | The Storehouse | Ben Demers | Go |
| | The Super Spectacular Dada Adventures of Hugo Ball | Brynn Tucker | Go |
| | The VindleVoss Family Circus Spectacular! | Jessica Pearson | Go |
| | They're Just Makin' That Crap Up | Laurel Elliott | Go |
| | Treadwell: God's Little Lies | Sarah Ameigh | Go |
| | Trojan Women 2.0 | Andy Hart | Go |
| | Twisted Greeting Card Moments Gone Bad! | Jessica Pearson | Go |
| | UPheaval | Ryan Taylor | Go |
| | Washed | Ryan Taylor | Go |
| | What, Lamb! What, Ladybird! | Jessica Pearson | Go |
| | When ET Flew Over the Cuckoo's Nest | Ben Demers | Go |
| | Who Killed Captain Kirk? | Steven McKnight | Go |
| | Who's Your Baghdaddy or How I Started the Iraq War | Ross Preston | Go |
| | Z-The Apocalypse Improvised | Sabrina Daly | Go |