It must be Matt Month. How else can you explain not one but two musical productions in the area featuring the music of composer Matt Conner?
Creative Cauldron, celebrating the company's long association with Conner, (he started working with them in their first year), has just opened its tenth anniversary season with a production of Nevermore, Conner's musical about the life and writings of Edgar Allan Poe. In Shirlington Village, Signature Theatre, which first commissioned Nevermore in 2006, is currently producing the world premiere of Conner's The Hollow, as part of its American Musical Voices: The Next Generation. Conner is a lucky boy indeed, and especially, to my mind, with this newest production of Nevermore.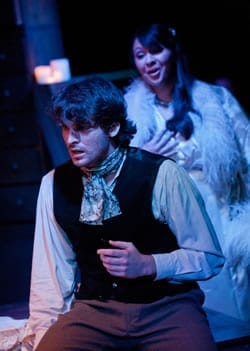 Conner's ear as a composer suits the gothic genre of early 19th century literature. He certainly gets the eerie and macabra tone of Poe's writings.  He conjures up a great sense of atmosphere, incorporating suggestions of a clock ticking, the eerie twistings and rustlings, the plaintive strings, and bells in his score. This musical landscape  is grounded with tunes that flow from Poe's lyrical sense.  Poe's poetry naturally lends itself to song. Even with this production's reduced orchestra using only piano, violin and cello, you get a sense of Conner's authentic impulse as a composer.
The Creative Cauldron production has also afforded Conner the opportunity to direct his own work.  His stripped down version puts the emphasis back on Poe and his imagination.
Poe's writings carry us back to a time when words mattered.  Sitting around flickering candles, audiences can tune in today as they did then to the shadowy play on walls, and this is world enough for a storyteller to scare and enthrall.  Poe gets drunk on words and he uses them to exorcise his many demons and push away his fears.
The terror stems from Poe being abandoned by his mother when he was a child. The themes of obsession and abandonment come to rule Poe's life, including a passion for his thirteen-year old first cousin whom he marries, her mother (a surrogate maternal figure), another childhood flame with whom he reconnects when she is a widow in her forties, and countless liaisons with women of the night.
Conner and playwright Grace Barnes do not flinch from showing Poe in less than flattering circumstances.  The book of this musical depicts Poe as part victim, part monster and examines whether the darkness that clouded Poe's life and writings came from an overexcited imagination, or whether addictions to alcohol and sex kept him emotionally chained.  (The creators wisely leave it to the audience to decide.) Poe is a true nineteenth century romanticist, believing that an artist must both suffer for his work and use depravity to stoke his artistry.
Sean Thompson in the role of Poe is terrific and shares with us the man's hallucinatory and troubling journey. He manages the tightrope between portraying the melodramatic subject of the material and the true suffering this man lived through to realize his work. He never backs down from either the heartfelt passion or the artist's less than noble whining.  Most musicals end with a big company number, but in the last song of the evening, "Dreams," Thompson, who has been playing full pitch most of the evening, delivers a soloin which he discovers another gear.  With great psychological clarity and emotional power, he pulls off a musical climax to the evening singlehandedly.
Conner and Barnes have chosen to make the women less fully three-dimensional and more archetypal (Mother, Whore, etc.) Conner's staging underlines this by having them swirl in and around Poe. These five ghostly characters are emanations  from Poe's brain, and the actresses inhabit them  with varying degrees of success. Especially challenging in the acting is how much period, how much contemporary, to blend the ingredients for each character.
Katie Culligan portrays Virginia, the child cousin and first wife. Culligan carries off both the playful innocence of a thirteen year old who wants to be enthralled by Poe's bedtime stories to the distraught wife that discovers she has been replaced in her husband's mind by demon drink and debauchery.  The relationship of Poe to this underage first cousin is an unsettling one, but the actress makes it both believable and touching in numbers like "Bridal Ballad". Her bright and pure rendition of "Annabel Lee" is one of the best fits in the musical.
Mary Payne Omohondro plays "Muddy", mother to Virginia. It is she who confronts most strongly Poe in his decline, and her deep, straight tone anchors the show.   When her daughter dies, there is Poe still weeping and whining about his abandonment issues. She lets him have it with a mixture of moral righteousness and a mother's anguish that singes with its power. I wanted even more of this character, especially to understand better how Muddy lets matters take their course, even continuing to live with Poe after Virginia's demise.
Karissa Swanigan-Upchurch as Elmira, another early sweetheart who later becomes engaged to Poe, most successfully embodies a believable character from that period.  Her physicality and even her vocal quality capture a primness and virtuous idealism suited to nineteenth century manners. In the musical, her shining adoration as a young woman transforms into a most contained and self-satisfied widow, and Swanigan-Upchurch succeeds with the most subtle of means.  Her song "Silence" with Poe is particularly touching and straddles well the then-and-now challenge of this work without any jarring anachronism in style.
I had more problems with the rendering of two other key figures in this work. We are never given to understand why Poe's mother, an actress, abandoned her son. If the character is meant to be a maternal muse, Priscilla Cuellar does not convey the ethereal pull of an angel mother.  If she is meant to stand for the critical voice in his head, she never delivers the stinging zingers with the kind of sardonic humor I think was intended in the writing.  The writers chose to roll the other shadowy women of Poe's life into one, "The Whore." Played by Dani Stoller, the role like the name is a generalized mash.
Stoller's costume as well as her acting style is more "goth" than "gothic." I am getting pretty tired of the black wig-and-nails, corseted Rocky Horror meets Vampire look. Having seen Stoller dish up a truly original character with confidence in F#@king Up Everything this past summer, I wanted something plumbed deeper in this role.  Here she does little more than strut and thrust her body. If Conner and Barnes wanted the character of Poe's whorish companion to pull off Blood Sucking Vampire and Angel of Death, they hadn't prepared us. And I wish with choices like Rocky Whore-or the creators hadn't felt the need to stoop to force a contemporary connection.
The set is focused and strong, dominated by two elements, including a large low table that serves as writing desk, bed and platform. Scenic Designer Marie Jervis has also given us a floor-to-ceiling stack of drawers, set as out of kilter as the National Cathedral's stone block spires after the earthquake, and opened to spill out abandoned scraps of writing.  Pages  litter the floor. A gorgeous physical motif comes out of this when Poe, whose brain still seethes after he's used and crumpled all the paper at hand, writes on the bodies of Virginia and later the Whore in a tingling foreplay of words.
Nevermore is a musical drama about a tormented soul. Poe seeks peace from the fever in his brain, but we discover whenever he is offered it, he just can't settle.  In fact, Poe insists, "Happiness is the death of poets." Believe it or not, head to the Creative Cauldron this month to get down and spooky with Poe.
Nevermore runs thru Oct 30, 2011 at ArtSpace, 410 South Maple Ave, Falls Church, VA.
Details
Tickets 
Nevermore
Composed by Matt Conner . Book by Grace Barnes
Direction by Matt Conner
Produced by Creative Cauldron
Reviewed by Susan Galbraith
Recommended
Running Time: 90 minutes with no intermission