Blanca Ziska, Artistic Director of Philadelphia's Wilma Theatre is this year's recipient of the Zelda Fichandlert Award, presented by the Stage Directors and Choreographers Society (SDC)
Sometimes you sup with the gods.
That's what it felt like on the stage at the Mead Center for American Theater Monday night, October 26, 2011, when the Stage Directors and Choreographers Society (SDC) celebrated its third annual presentation of the Zelda Fichandler Award.  Directors and choreographers gathered to honor one artistic director, picked this year from the eastern region's several finalists, whose vision and consistent programming has made an indelible impact on the community she served and who followed undeterred her own specific, laudatory artistic vision.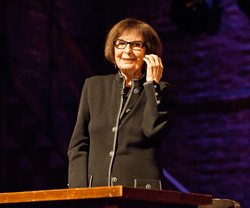 It all started like harmless fun, an evening of self-deprecating riffs on the theme of   "What do directors do anyway?" Karen Azenberg, Executive Director of SDC, shared a film clip showing actors and back stage technical staff either stymied or conveying words which had to be bleeped out.   A director is the "skunk at the lawn party," "a goatherd," "God," and  "a fascist" were just a few of the choice monikers left intact.
Jonathan Moscone, a former award recipient, civilized the evening's conversation and suggested that the "director's job is to bring the play and the audience closer and closer together and then – get out of their way." But we all knew that any evening with Zelda's name attached to it was going to be provocative and stimulating, and "getting out of the way" had nothing to do with what this formidable person had set out to do and, indeed, accomplished.
Zelda Fichandler opened the doors of Arena Stage in Washington in 1950 and almost immediately became a national force in theatre.  She would put together the first mixed-race resident company. We should remember that this was at a time when the National Theatre closed its doors rather than integrate. In fact, she was one of three dominant voices that initiated and forged what is referred to as the regional theatre movement.  It should be noted that the other two were also women, Margo Jones and Nina Vance.  Margo Jones, rightly called the regional theatre's founding mother, envisioned a theatrical movement outside of New York City, a totally novel idea at the time, where she imagined a network of forty theatres across the country.
Jones' original dream of forty theatres expanded into a much bigger reality that now includes over twelve-hundred theatres across the country, with artistic directors transforming their own theatrical landscapes and having the "courage to do extraordinary things." In the sixties and seventies there were a handful of theatrical giants, founding companies and creating groundbreaking work of the highest caliber, including Tyrone Guthrie in Minneapolis, Nina Vance at the Alley in Houston, and of course Zelda with a Zorro-like, sword-flashing-Z in our nation's capital.
Tom Moore, himself a noted artistic director, most eloquently set the record straight regarding Zelda's preeminence in this impressive group, as he described how she was the most transformative director in regional theatre.  Post World War II, he declared, was "Zelda's theatrical big bang."
By the time Zelda spoke, we were drinking in inspirational words as if we had been in a cultural desert, parched from lack of a nationally authoritative voice to stand up for the role of theatre in our communities. Zelda decried cowardice, timidity, and any apologizing for theatre's right to exist.  "All odds are mythological," she said. "Your life is made in those moments of challenge."  Indeed Zelda rather humorously pointed out that what she'd done amounted to an artistic sleight of hand.  "It was we who had to convince them to want what we wanted to give them. Nobody called on us, and we came."
Zelda sat in her elegant way at a small table provided her and she spoke quietly, but her words showed she was still the same firebrand. She said she would speak directly to those of us who have served as artistic directors.  She agreed that we had challenges to meet. She urged us to get rid of the paraphernalia of institutionalism, that it was killing theatre.    She had never asked for permission to forge her vision. She goaded everyone there, demanding us to answer why, as directors, we should ask for direction.  "It takes total dedication and, like growing old, this artistic director thing is 'not for sissies'.  I gave myself to this," she said. And indeed she had.
"I'm with my tribe tonight," she said.  Sitting in my seat, surrounded by large-fry and small-fry colleagues, I suddenly choked up with the realization that this was my family.  Why had it seemed so out-of-sight lonely for so long?  She set us on fire with what amounted to a manifesto that in the ever-evolving nature of American theatre, there is hope "if we continue to be tough in the service of what is tender."
So what is this animal artistic director?  Zelda pointed to the Chorus in Shakespeare's Henry V. I had delivered that unforgettable first speech as a performer. I can still feel in my body the will and tension pushing up into the shoulders and hands plying the air, my character desperate to carry both actors and audience and coax them to go with me.
An artistic director provides the invitation to actors and audience to engage in the important alchemy of theatre. That night Zelda invited us to do the same, and she did so with great persuasion. "For the birth of an American theatre it took more than a village. It took a whole country." She called on artistic directors to develop apava, the Sanskrit word to make a vision concrete.
Zelda insisted that theatre should never be about making money for which it is ill- suited. She empowered everyone there to return to our true mission. Our profit, she reminded us all, is, or should be, of a different kind.
She shared her plan for regional American theatre to thrive. Firstly, she declared that we should turn our gaze away from Broadway, either as a goal or as fare. Secondly, she admonished all artistic directors who felt they should get approval or ask their board or audience what they want as an artistic diet. Cling to integrity of personal vision, she insisted. While agreeing that the development of new plays is essential and acknowledging the current trends in funding and directing, she asserted to theatre's vitality lay in the classics.
Moreover, for the theatre to flourish the price of tickets must be restructured. Zelda jabbed at the theatre where her successor, Molly Smith, rules when she pointed out that some theatres are immoral, operating like US Airlines by raising prices on seats of a popular show.
Zelda insisted that artistic directors must be willing to take risks, regardless of box office trends. Finally, she urged that regional theatres should be homes not hotels for theatre makers.  She called for a return to resident companies of actors and designers.
Ethan McSweeny, SDC Treasurer and a young director whose teeth were cut locally and whose work has been seen in the area's major theatres as well as nationally, picked up the gauntlet and urged directors in this community to be better collaborators with each other. Community is what it is all about.  He presented this year's finalists and winner.
The winner of the evening's event took the stage and built on the sheer energy of the event.  Blanca Ziska, Artistic Director of Philadelphia's Wilma Theatre since 1981, clearly communicated her dedication and her vision both unerring and unstoppable.
Sharing the limelight that night was Washington's own Howard Shalwitz who was honored as Distinguished Finalist and who has been for decades a cultural force in Washington. Shalwitz is one who has never shied away from putting forth his own vision and taste both in plays and performance style. I'd like to add that as an artistic director, among his many idiosyncratic talents includes his brilliant ability to unearth a play before even the writer knows what he or she has written and to doctor it into performance wellness.  We need artistic directors like Ziska and Shalwitz to continue to forge the way.
And so we continued to enjoy the ether of these wonderful artistic directors. An artistic director is someone who gives us the courage as well as the opportunity to tackle works of challenge and integrity and bring them before an audience.
Those of us who are artistic directors live and work in the shadow of people like Zelda, and, when we climb, we climb to stand on their shoulders.
The Third Annual Zelda Fichandler Award was produced by the Stage Directors and Choreographers Society (SDC) and presented in the Kreeger Theatre of the Mead Center for American Theater.
— Susan Galbraith, a freelance writer for DC Theatre Scene, is also a playwright, librettist, director and actor. Currently, she serves as President of Alliance for New Music-Theatre. —