Nina Raines' Tribes began life at the Royal Court in London, where it had rave reviews and numerous honors, including an Olivier Award nomination for Best Play. No wonder then that an American consortium of producers led by Jean Doumanian banded together to bring  it to us, and with the help of the founders of the Barrow Street Theatre just off Sheridan Square in Greenwich Village, that's where it landed. 
Directed by David Cromer, who staged the long running revival of Our Town, it features an American cast of fine actors who've been asked to play Ms. Raines' very dysfunctional but vital family of Brits – a Mom and Dad, three adult siblings including brother Billy  who was born deaf. He is the darling of the clan, was raised in the middle of this fiercely opinionated and unconventional family, headed by Christopher, a turbulent dad who teaches language and is forever thrusting his politically incorrect manifestos in the faces of his loyal wife and savagely bickering son and daughter.
Billy is in a tribe of his own, but until he meets Sylvia, a young  lady who is quickly losing her hearing, he is his tribe's only member. He had adapted totally to his family's unconventional ways, and accepted  the fact that they've never made any effort to understand or consider his own. It is his developing relationship with Sylvia that opens doors and windows for him, and it is his journey, his stand against submission that forms the core of the play in which he becomes its central character.
The production reaches us in fits and starts. It begins with a ten minute sequence in which the four hearing members of the family go at each other in machine gun style by finishing each other's sentences, by engaging in argument that verges on war.  They seem to thrive on chaos, on disagreement, on pushing each other's buttons.
Each actor is attempting to control a British accent, but each seems to come from another part of England. We are told at one point that this is a Jewish family, but the casting says otherwise. Mare Winningham, as Mother, is a lovely actress, but her physical presence is about as Jewish as was Pert Kelton in The Music Man or Sara Algood in Juno and the Paycock. For you younger folks, think Rosie O'Donnell in anything.
Jeff Perry has a way with him as Dad Christopher, but it's closer to character actor Walter Connelly than Lee J. Cobb, and who ever heard of a Jewish dad named Christopher?  Gayle Rankin's sister Ruth is closer to one of the girls in Dancing at Lugnassa then she is to one of them in Fiddler On The Roof, and Russell Harvard, the young and appealing "Billy" would seem to be twin to "Billy Budd".
Will Brill rounds out the family as son Daniel, the highly neurotic and deeply unhappy other son.  All of these actors are first rate — with special kudos to Mr. Harvard who, without ability to hear any of his fellow players, manages to hold the stage and carry us with him as he emerges from his shell to claim rights for his own particular tribe.
The play has cumulative power, but it's unfortunate that its unique characters are not an easy bunch with whom to spend an evening.  Irritatingly abrasive, maddeningly non-communicative, they represent the sort of family one can't wait to leave. So it is no wonder that as Billy makes his stand after a blistering confrontation scene, then recants, I found no catharsis in the play's conclusion.  It seems to say that mutual dependence can keep families locked into small airless rooms for lifetimes, with bonds that tie so tightly that no escape is possible, that all growth is stunted.  Not a very reassuring thesis, not a life-affirming play.
One can feel Ms. Raine's conviction throughout, and she has a way with naturalistic dialogue that sounds authentic, but I hope that next time out she delivers characters, one of whom we can root for.  She had one here called "Billy" but by the time we meet him, it's already too late for him to escape his destiny.
Tribes is onstage now at Barrow Street Theatre, 27 Barrow Street, NYC.
Details
Tickets
———————–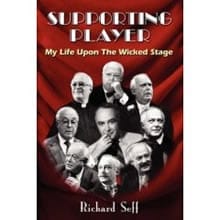 Broadway performer, agent, writer, and now librettist, among his many accomplishments, Richard Seff has written the book for Shine! The Horatio Alger Musical!, which debuted at the 2010 New York Musical Theatre Festival. He is also author of Supporting Player: My Life Upon the Wicked Stagecelebrating his lifetime on stage and behind the scenes, available through online booksellers, including Amazon.com.
Read more at RichardSeff.com
Richard Seff on DCTS – interviews Broadway luminaries:
Richard Seff chats with Joel Markowitz: