I have fallen in love all over again with My Fair Lady.
I cannot speak for the rest of the capacity crowd sitting in the Fichlander at Arena Stage the other night, but I was bewitched by the artistry and finesse of this production.
How do I love Molly Smith's production of My Fair Lady? Let me count the ways.
First and foremost, the show itself is one of the most lyrical and literate titles from the Golden Age of Musicals. With the clear mission of presenting the best American theatre possible, it was inevitable that Arena Stage would mount a production of My Fair Lady and it deserves to run longer than its closing date, January 6, 2013.
It's difficult for me to believe there has not been a Broadway revival of the show since 1994, when many inferior musicals have made their way back to the Great White Way. Luckily, Washington, D.C. has it.
If you just arrived here from Mars, or are perhaps under 20 and only know "Glee" and Wicked, you might not know about the big Broadway hit of 1956, which ran for 2,717 performances. My Fair Lady is the wildly successful musical adaptation of George Bernard Shaw's Pygmalion, created by the team of Alan Jay Lerner and Frederick Loewe. Loewe's score is a pinnacle of Broadway romanticism. Lerner's book and lyrics are a perfect match, and are made stronger by liberal sections of text taken directly from Shaw's original play.
Now back to the love affair.
Smith's direction of the musical is stylish, oozing ingenuity from every pore. The racially diverse cast and ensemble – seemingly a hallmark of Smith's recent reinterpretations of classic American musicals – shines, stomps, glides, and charms from start to finish. With the excellent partnership of choreographer Daniel Pelzig, Smith keeps the action swirling and the scenes pristine.
Smith's casting is, in a word, impeccable, starting with the leading man. Benedict Campbell opens new frontiers as Professor Henry Higgins, the irascible phonetics professor attempting (and eventually succeeding) in turning a lowly, Cockney flower girl into a convincing lady of society. A veteran of many seasons at Canada's Shaw Festival, including Higgins in Molly Smith's 2011 production, Campbell has subtlety, a flair for the language and is clearly in his element. He adds a vulnerable, teddy bear touch to his Higgins, while never losing the confident air of a man who is seldom wrong and knows it.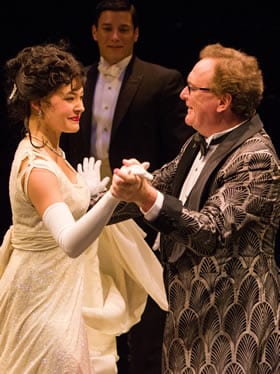 Campbell also sings more than most of us are used to, with the memory of Rex Harrison's film portrayal lurking in our collective memory. No need to forget Harrison's Oscar-winning turn to appreciate a real theatre actor, such as Campbell, commanding the stage, owning the text and performing the classic Lerner and Loewe songs with panache. When you hear songs like "Why Can't the English?" and "I've Grown Accustomed to Her Face" fully sung, they almost sound like new compositions.
As Campbell's friend and fellow dialect buff Colonel Pickering, Thomas Adrian Simpson is a gentleman through and through. Simpson has a grand old time watching over the poor flower girl, and serving as the friendly foil to Benedict. As Higgins and Pickering strike a wager concerning whether or not the professor can turn a street urchin into someone who can pass muster in London society, their bonhomie and gentle rivalry is palatable.
One of Arena Stage's favorite dashing leading men, Nicholas Rodriguez (Light in the Piazza, Oklahoma!) makes a welcome return as the love-struck Freddy Eynesford-Hill. Lerner and Loewe gave Freddie the task of falling instantly in love with Eliza Doolittle and singing "On the Street Where You Live," the most popular song from their sterling score. Rodriguez takes care of his chores effortlessly and his voice never sounded better.
Speaking of effortless, that is just one adjective I could use to describe the true revelation of Arena Stage's My Fair Lady: Manna Nichols.
From her first moments as the loud, common guttersnipe, this Eliza Doolittle is a true diamond in the rough. Nichols is every bit believable as the poor girl who has to sell flowers to survive, complete with her thick, Cockney accent. The audience truly sees her grow into a fair lady – and what a transformation! Nichols' Eliza gains polish as each scene progresses. When she emerges in her gorgeous, shimmering Embassy Ball gown, the beautiful, refined woman takes center stage and the transformation is complete. She grows even more as she confronts Higgins on her own terms. Fair lady, indeed!
Watching Manna Nichols in the book scenes, as well as her acting during the songs, I couldn't help but think of seeing her play roles such as Juliet, or Cecily in The Importance of Being Earnest. Such a focused, intelligent and skilled actress could handle the classics and other non-musical roles.
Nichols needs to keep singing, that's for sure. Whether it's in a musical or as a soloist, she has a clear and strong soprano voice that was made for singing Eliza's songs "Wouldn't It Be Loverly?," "I Could Have Danced All Night" and the others.
Molly Smith's ethnically diverse casting was a conscience effort to manifest the melting pot that was London, circa 1912. This casting extended to Nichols, who is partially of Chinese descent, and Asian-American actor James Saito as her larger-than-life father, Alfred P. Doolittle. Nothing is ever made of their background; you just accept it and the show goes on.
Among the supporting roles,
My Fair Lady
can boast solid work by Sherri L. Edelen (recently Miss Mona in Signature's
Best Little Whorehouse in Texas
). Here she is the droll housekeeper, Mrs. Pearce. Catherine Flye brings a haughty grace to Mrs. Higgins, Henry's mother.
Highly Recommended
My Fair Lady
Scheduled to close January 6, 2013.
Arena Stage at the Mead Center
for American Theater
1101 Sixth Street, SW
Washington, DC 20024
Running time:  2 hours, 45 minutes with 1 intermission
Tickets: $45 – $94
Some performances are sold out.
Tuesdays thru Sundays
Details
Tickets
Aside from the stellar performances and Smith's strong vision, the production designers have done their homework and get all "A's." Donald Eastman's scenic design takes a page from textile artist William Morris and the arts and crafts movement. Jock Munro's elegant lighting bathes the stage in the proper accents.
Combining Steampunk influences for the lower classes and Alexander McQueen-inspired couture for the Ascot Scene and the upper classes, the impressive costume designs are by Judith Bowen. From hats to boots and everything in between, the attention to detail gives the show a distinctive look.
Music director Paul Sportelli makes a welcome debut at Arena Stage and skillfully leads the orchestra and singers, as they perform Loewe's score. The performers were also assisted by Carl Cassella's subtle sound design.
By now you know this was a rave. I surmise this won't be the only one. Meanwhile, while you were reading this review, another performance of Arena Stage's My Fair Lady probably sold out. Get your tickets and be prepared to fall in love.
—————–
My Fair Lady by Alan Jay Lerner & Frederick Loewe (Book, Lyrics and Music). Directed by Molly Smith .  Featuring Benedict Campbell (Henry Higgins),  Sherri L. Edelen (Mrs. Pearce, Queen of Transylvania), Catherine Flye (Mrs. Higgins), Benjamin L. Horen (Zoltan Karpathy) Manna Nichols (Eliza Doolittle) Nicholas Rodriguez (Freddy Eynsford-Hill),  James Saito (Alfred P. Doolittle), Thomas Adrian Simpson (Col. Pickering), Rayanne Gonzales as Mrs. Eynsford-Hill and Kurt Boehm as Jamie, with ensemble members Bev Appleton, Erin Driscoll, Jennifer Irons, Robert Mintz, Jesse Palmer, Jobari Parker-Namdar, Joe Peck, Kim Willes, Hannah Willman  and Ronald Duncan as Harry, with ensemble members Will Burton, Dean Andre de Luna, Afra Hines, Sade Simmons and male swing Victor J. Wisehart.
Choreographer Daniel Pelzig, Music Director Paul Sportelli, Costume Designer Judith Bowden and Lighting Designer Jock Munro, Set Designer Donald Eastman, Sound Designer Carl Casella, Wig Designer Anne Nesmith, Dialect Coach Kim James Bey, Assistant Choreographer Melanie Phillipson, Assistant Music Director Jose C. Simbulan, Stage Manager Susan R. White and Assistant Stage Manager Christi B. Spann. Produced by Arena Stage. Reviewed by Jeff Walker.