The Kennedy Center's new production of Hungarian playwright Ferenc Molnár's vintage 1910 dramedy The Guardsman, starring Finn Wittrock and Sarah Wayne Callies, promises to be a surprise hit once it works out a few kinks evident on opening night. As a comedy, Molnár's play is a turn-of-the-last-century drawing room amusement that's deliciously laced with touches of French farce. But on the flip side, Molnár's sadly familiar chronicle of a still-new marriage rapidly headed for the dustbin of history adds unexpected elements of tension and poignancy to the mix.
From the outset, almost any regular theatergoer will grasp this play's most familiar convention: the employment of a disguise by one spouse or lover to snoop out the suspicious behavior of another. Mozart's perpetually popular opera, Così fan tutte (They All Do It), with its pair of lovers disguised as exotic Albanians, might have been one classic inspiration for Molnár here. His hero—or anti-hero—known only as The Actor (Finn Wittrock), is insanely jealous of his leading lady and wife of six months, The Actress (Sarah Wayne Callies).
To confirm his suspicions, The Actor contrives a sudden, out-of-town journey that serves as a ruse for his return as an exotic, imperial Russian guardsman. In what he regards as his greatest role to date, The Actor intends for the "guardsman" to seduce his wife, thus settling the fidelity issue once and for all.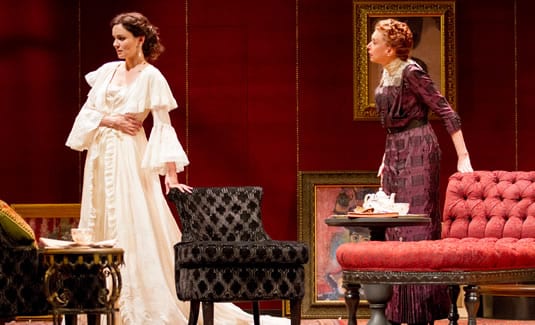 The Guardsman, however, is not intended simply as comedic entertainment. Handsome though he is, The Actor is obnoxious, unpleasant, and jealous to a fault. The situation is not helped at all, either, by The Actress' ice-cold demeanor. Seemingly by intention, she makes matters worse by constantly playing of one of Chopin's most despairing compositions, his Prelude #4 in E-minor (Op. 28) whenever The Actor tries to draw her out. Her musical selection clearly reflects her own inner feelings. But she also knows it drives her husband crazy.
The original version of Molnár's play (Testör in Hungarian) was well received at its premiere. But it became even more popular on this side of the Atlantic when it was radically lightened and Americanized for the legendary thespian couple Alfred Lunt and Lynne Fontanne, who first performed it on Broadway (1924) and later reprised it for the movies (1931), where, among other things, Ms. Fontanne's Actress chose a lighter Chopin selection to annoy her husband. Molnár detested the revisions, which toned down his own play's pervasive sadness. But he did admit he was glad to receive the royalty checks.
It's interesting to note that Molnár had debuted a similarly themed play—Liliom—just a year before he introduced The Guardsman. Liliom might have been forgotten by now had Molnár not been persuaded by Rodgers and Hammerstein to let them adapt it for a new Broadway musical—with the stipulation that this time, they wouldn't put a happy face on the original. The ultimate result: Rodgers' and Hammerstein's 1945 hit musical, Carousel, most recently revived in this area in April by the Virginia Opera.
Carousel's unpleasant Billy Bigelow—Molnár's carnival barker anti-hero as transplanted to Maine—actually provides a key to understanding the heart of The Guardsman's equally troubled husband. Contrary to outward appearance, both men are madly, passionately in love with their wives, yet so much so that they can't articulate it. The building frustration leads both to the brink of violence. But The Actor, unlike Billy, never strikes his wife.
The Kennedy Center's current production of The Guardsman restores this nearly lost, unsettling undercurrent of violent despair via Richard Nelson's new translation, and that's what makes the KenCen's current offering at the Eisenhower a cut considerably above the average for a summer evening's entertainment.
While the occasional line in Mr. Nelson's translation seems historically out of place in this current 20th century period re-creation, the new script seems convincingly authentic for the most part. It also captures Molnár's distinctive dramatic essence, circa 1910; namely, his ability to look back and embrace the realism and naturalism of Ibsen and Strindberg while uncannily foreseeing the eventual artistic obsession with meaninglessness that evolved into French absurdist drama after the Second World War.
The KenCen's new  Guardsman is visually striking. Created by John Lee Beatty, its tastefully ostentatious, early 20th century European drawing room setting, which reflects the endgame of Old Europe opulence as well as the larger-than-life lifestyle of a successful pair of popular actors. It's here that the play both begins and concludes. In between, it's replaced by a convincing reproduction of an opulent opera house box suite where the key rendezvous with the "guardsman" takes place.
Jane Greenwood's impeccably designed costuming for this production is also appropriate for the period, formal but not too much so. Except for "the guardsman's" outfit, that is. Borrowed by The Actor from a costume shop, it's appropriately gaudy and made even funnier by the fake facial hair and fright wig designed by Tom Watson.
But perhaps best costuming touch of all is Ms. Greenwood's ensemble of flowing gowns and classy négligées, all of which flow elegantly and drape dreamily over Ms. Callies' willowy figure. Elegant and sexy yet understated, they accentuate the positive while stoking The Actor's passion.
Speaking of which, the chemistry between the leads in this production is a marvel of subtlety. On the surface, all we see initially is The Actor's fury and The Actress' ice-maiden exterior. Given the touchy nature of their faltering marital relationship, some absence of warmth is clearly understandable. Yet both Mr. Wittrock and Ms. Callies project the same undercurrent of quiet desperation that might only find its expression these days on a marriage counselor's couch.
Both accomplished stage actors, who've lately widened their audience on cable TV—Mr. Wittrock in a recurring role on Masters of Sex and Ms. Callies most recently a lead in The Walking Dead—are quite brilliantly cast here. Mr. Wittrock's manic yet sincere Actor is reliably over-the-top, in contrast to the more carefully concealed emotions of Ms. Callies' Actress.
Both principals fully grasp as well the playwright's intentional paradox whereby each spouse, and the audience itself, must somehow attempt to navigate what parts of the relationship are real and what parts are the inventions of a pair of stage professionals who can't leave their respective briefcases at the stage door.
Solving this puzzle becomes a game for both the couple and the audience. Everyone involved ends up trying to figure out just when The Actress has or soon will see through The Actor's guardsman ruse. Who is really acting, and who is not?
There are other characters in this play as well. First and foremost is Shuler Hensley as the third wheel in this marital merry-go-round. His "Critic," is an interesting character in his own right. He's apparently the best of friends with both The Actor and The Actress and unashamedly has an eye for the latter, although his longings remain strictly platonic.
Another notable, if slightly smaller role belongs to Julie Halston who plays The Actress' companion, aka "Mother." A busybody, though a sharp one, she resents The Actor's potential to replace her as The Actress' confidant, "Mother" never misses an opportunity to make him look bad, and Ms. Halston exploits the role's comic possibilities quite admirably.
Recommended
The Guardsman
Closes  June 23, 2013
The Kennedy Center
2700 F Street, NW
Washington, DC 20566
2 hours, 20 minutes with 1 intermission
Tickets: $54 – $95
Tuesdays thru Sundays
Details
Tickets
The faults in this production are few and have hopefully been addressed by the time you read this. First, and easiest to fix is the dialogue dropout we encountered on opening night. For roughly the play's first ten minutes or so, the actors could barely be heard. This seems to have self-corrected over time, however.
There's a bit of a problem with the stagecraft in the drawing room setting, at least for audience members seated closer to the front on the left side of the house. A couple of key scenes take place at a window positioned there, but the view of that area is blocked in these seats.
The bigger problem on opening night, however, was the pacing, which occasionally dragged, particularly near the play's conclusion. Director Gregory Mosher handled the tempo of the play well up to this point. But the lengthy "beats," or pauses in the dialogue, while meant to be thoughtful and reflective, become quite exasperating. There's a reason for these "beats": the characters need to reflect a bit before they speak lest they be misunderstood. Yet, from a dramatic point of view, shortening these intervals a bit would lead to a more satisfying conclusion.
Except, perhaps, for the aforementioned visual issue, however, the problems in this production are minor and are not nearly enough to overcome a funny, challenging, exasperating, but above all entertaining and delightful evening of theater at the Eisenhower during which a refurbished old favorite still proves it has something important to say to audiences in a radically new century.
——————————-
The Guardsman, by Ferenc Molnár; new translation by Richard Nelson . Directed by Gregory Mosher . Featuring Julie Halston,
Shuler Hensley, Sarah Wayne Callies, Finn Wittroc. Set design: John Lee Beatty . Costumes: Jane Greenwood . Lighting Design: Peter Kaczorowski . Sound: Scott Lehrer . Produced by The Kennedy Center . Reviewed by Terry Ponick.
More?
Julie Halston from Vampire Lesbians to Guardsman