Saturday evening was all Halloween and hardware at Landless Theatre Company's prog-metal production of Frankenstein. In this, the company's most ambitious show to date, the cast was ably supported by the ghoulishly face-painted band members. The four musicians delivered full-throttle, driving drumbeats and aggressive guitar riffs interwoven with some complex musical motifs associated with the blended genre.
Alas, the central motif of a pater-creator and his creature, who, once unleashed on the world, gets out of hand and runs amok, might be an apt metaphor for the creation of the new-styled opera itself.  Don't get me wrong, there's a lot of sweat equity here and some talented musical "chops," but the overall effect is what I might call an unintentional mash.
I had no problem accepting the premise, even without Director Melissa Baughman's defense in the program notes. We already have another nineteenth-century author, playwright Frank Wedekind's Spring Awakening turned into a rock opera/musical. New musical treatment for new audiences, that's what cutting-edge theatre has always tried to do. Landless has made it their central mission.
In this case, the elements were there but without the sufficient rigor to make the story revelatory in its retelling.
The decision to turn Mary Shelley's novella, itself an experiment in genre, into a successful "opera" needed more than just leaving out some characters and scenes from the original. The form necessitates a compression of words. More, it begs for sufficient simplification and repetition to feel emotionally satisfying while moving the story forward.
In Richard Campbell's work, there were not only too many words, but too much of the time we are told what Dr. Frankenstein is doing or feeling, rather than being shown through dramatic interactions.
Andrew Lloyd Baughman and Rob Bradley have seriously powerful vocal instruments that can take the punishing demands of a "metal" style of singing. Baughman never holds back and even manages to shift gears from roar to a kind of "lift off" in the power ballads. Bradley blends as a true tenor in duets and trios and then pulls off an AC/DC metallic squeal as if the sound is hitting an iron plate with a ballpeen hammer and ricocheting off. But Bradley has so many words to deliver, they get muddied at times to the point of incomprehension, and this causes considerable confusion in his role as both narrator and "agent" of the plot.
This happened with other characters and key plot points as well. Who exactly was the maid/friend/neighbor who gets unjustly accused of murder and hangs for it? And was it Frankenstein's brother who becomes the first victim of the creature's wrathful revenge? I'm generally against surtitles for English librettos used in many operas, but here I might have welcomed them for the sake of needed clarity.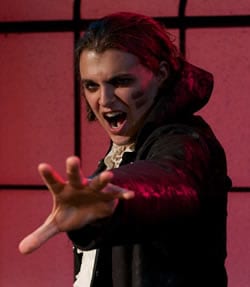 The style of the piece was also a bit mystifying to me. The men seemed to fare a bit better in garb that looked like a cross between Pirates of the Caribbean and vintage rock n'rollers. But what was costumer Elizabeth D. Reeves intending with the love-interest character, Elizabeth, when she suited her up in a modest nineteenth-century gown but decked her out with candyfloss-pink corkscrew curls which made her look like a plastic-dolly Miss Haversham from Great Expectations? When finally undressed for her wedding night, the actress's sexy corseted body revealed her considerable tattoos, I expected for the character to cut loose vocally.  Sadly, she stayed emotionally laced-in and buttoned-up.
While Baughman and Bradley strutted and posed like rock concert icons, Irene Jericho, who plays Dr. Frankenstein's devoted fiancée and all-too-briefly his wife, seemed to float in from another show.  Her pleading gestures were restricted and seemed a throwback to the genre of melodrama. The singer-actress has an amiable sound, but she lacked variety vocally or dramatically to make her character compelling.
Indeed, over-earnestness seemed to be one way the company floundered. Occasionally, the style of the show verged on camp, what with the liquid that squirted out of the body of the shrouded experiment and the limp jump starters used in the same scene to "juice" the creature's body to life. But none of this went far enough.
Camp is what Landless is best known for, and, while I applaud the company for pushing in new directions, I would encourage them not to abandon some of the exuberance and over-the-top comic branding that has endeared them to their audiences. As it was, the "Rocky Horror" eyes, painted black nails, and posing of the two lead rockers seemed jarring against the heavily weighted tone of this tragedy of remorse and revenge.
Even the setting seemed to cramp the story rather than support a production style.  Designer Jared Davis did have the clutter of rock instruments to contend with, but  choosing dingy panels of Victorian wallpaper, which doubled as screens for shadow work, created some awkwardness. The gurney for the key "operation scene" had to be rolled on and off awkwardly between drum set and guitars, and chases had to be choreographed "over ice fields" and a lumpy chair. The curious and initially delightful shadow work of cut outs, borrowed from the nineteenth century's passion for silhouettes, was not executed with sufficient finesse and finally became tiring.
Yet I keep going back to that moment when Greg Bowen, as "the Creature," first sat up and then, falling to the floor, struggled and pulled his considerable lanky frame to a standing position. I was mesmerized. In a matter of a couple of minutes, the actor had shown the entire evolution of simian to homo sapiens.
Recommended with reservations
Frankenstein
Closes June 30, 2013
Landless Theatre at
The Tivoli
3333 14th Street, NW
Washington, DC
1 hour, 5 minutes with no intermission
Tickets: $16 – $24
Thursdays thru Sundays
Details
Tickets
When his character first laid eyes on his progenitor, Bowen's eyes burned and his lips pulled back revealing a skull-like grin, a horrible feral grimace.  Through several scenes, he only mimed his way silently through this opera, and I thought I might miss out on this character giving voice to his pain and despair. When he finally opened his mouth to sing, and out came an almost sub-human decibel of bass, the sound sent excited shivers up my spine.  Keeping his lupine snarl, Bowen spit and bit into consonants, every word coherent and emotionally colored. Bowen used words as instruments of his vengeance, in the way fans love masters of hard rock to do.
A problem with prog-metal, to my mind, is that it can sometimes focus more on the complexity of arrangement and less so on the original raw impulse. It becomes then a demonstration of the musicians' technical skill rather than a compelling spectrum of musical emotion.  Nonetheless, Campbell created some quite nice duets and trios, and the singers rose to the occasion. I was also quite taken by a number accompanied by acoustic guitar and passages of instrumental music.
Director Baughman seems to have needed more time to plumb and fine tune the work into a shape, including time to coach the actors to connect more as characters, develop a richer and stronger gestural vocabulary, and build the intensity of the work through genuine and original emotional impulses. In the final analysis, Campbell's score felt exposed and the show a kind of concert version of "hits" more than a coherent dramatic work.
———————-
Frankenstein .  Composed by Richard Campbell . Libretto by Richard Campbell and Carol Pestridge . Based on the Novel by Mary Shelley . Directed by Melissa Baughman . Musical Direction by Jack Sossman . Produced by Landless Theatre Company .  Reviewed by Susan Galbraith.
More?
Frankenstein – a mixer for the heavy metal and musical theatre crowds