Memory can be a devious thing. It can snake around you like tendrils of cigar smoke and cloud your reason or it can keep you company so snugly you feel no need to seek other amity.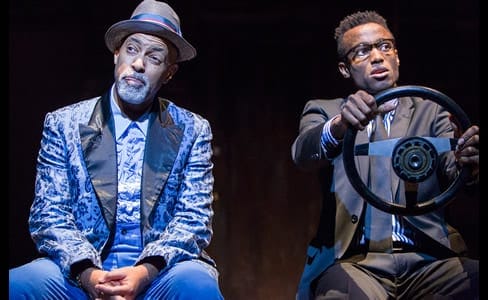 Oscar Clifton (Michael Genet), an aging Bluesman, is caught in the web of memory, which both confuse and comfort him. Content to sit in the dark, howl at the moon and commune with the spirits of his dead wife Viola (Denise Burse) and daughter Darlene (chandra thomas), Oscar has a death grip on the past. A visit from his at-odds grandson Marcus (Sheldon Best) unwillingly hauls him into a present he doesn't want anything to do with.
The setting of the play reinforces this feeling of being caught between the living and the dead, with Neil Patel's shuttered set and Michelle Habeck's lighting evoking the feeling of a haunted house in autumn, record albums and books scattered like dead leaves and October light filtering through the gloom.
Marcus Gardley's semiautobiographical play dance of the holy ghosts is drenched in the ache of Blues music and the family stories that plague us and take us home. With its rich, rustic poetry and swaying, rootsy rhythms, Mr. Gardley's style reminds you of August Wilson's mingling of the spiritual, historical and melodic realms in his 10-play epic cycle.
Mr. Gardley and Mr. Wilson also share an earthy sense of humor that pops up amid dismal circumstances. While dance of the holy ghosts may not be in the same league as Mr. Wilson's works, it is a gripping and heartfelt play about a vituperative old Bluesman, who, much like Robert Johnson, went down to the crossroads and made a deal that hounds him all his days and nights.
Directed by Kwame Kwei-Armah with a generous eye toward the talent assembled on stage, dance of the holy ghosts fingerpicks through Oscar's recollections and those of Marcus, who has come to his grandfather's neglected apartment to coerce him to attend a funeral.
Oscar's remembrances are the headiest, starting with the opening scene where you can plainly see why Viola bedeviled him so. In her 1940s, full-skirted peplum dress and with a Lady Day flower in her hair, Viola flirts, twirls and sings snatches of swing tunes as she beats the pants off Oscar in chess. Theirs is a love forged on want—he craves her flesh, her scent, the lilt of her spirit; she longs to fully own a man whose heart is torn in two between her and his music.
Recommended
blues of the holy ghosts
Closes November 17, 2013
Center Stage
700 North Calvert Street
Baltimore, Maryland 21202
2 hours with 1 intermission
Tickets: $10 – $59
Tuesdays thru Sundays
Details and tickets
Their passion endures because each one constantly eludes the other. Oscar takes to the road with its booze, blues jams and groupies, returning home not to find his wife and Daddy's girl preserved in amber but growing up and growing away. Viola, as played by Miss Burse, exudes such potent allure you sympathize with her as she confesses to being with other men to survive while Oscar goes on tour for months at a time. As shattered as Oscar is, you cannot condemn her for providing any way she can for her and Darlene.
Other than his music and his manliness, you are hard-pressed to know what Viola sees in Oscar. Even as a younger man, Oscar is selfish, self-aggrandizing and belligerent—age and trouble make him more so. Mr. Genet plays him with honest gusto, not trying to make Oscar ingratiating, but portrays him as he really is—a hard man who apologizes for nothing and to nobody.
When the pendulum swings to Marcus' memories, the play is less compelling. Except for a wonderfully inappropriate scene where Oscar gives the 10-year-old Marcus advice on girls ("When I was your age, I had two girlfriends and a cousin," he crows), the young man's flashbacks seem capricious, and out of sync mood-wise with the rest of the play. And while Mr. Best assumes some gravity at the end, for the most part he appears to be in another play—one more light-hearted and pop-culture infused than the hardscrabble, blues-tinged dance of the holy ghosts.
———————
dance of the holy ghosts by Marcus Gardley .Directed by Kwame Kwei-Armah . Featuring Sheldon Best, Denise Burse, Jasmine Carmichael, Doug Eskew, Michael Genet, chandra thomas . Scenic Design: Neil Patel . Costume Design: David Burdick . Lighting Design: Michelle Habeck .Sound Design and Music Arrangements: Rob Milburn and Michael Bodeen . Dramaturg: Catherine Rodriguez . Stage Manager: Laura Smith . Produced by Center Stage . Reviewed by Jayne Blanchard.