It seems reasonable to say that Jess Jung's production of Happy Days, a play of sorts by Samuel Beckett, is theater reduced to its bare essentials, or elevated to its bare essentials, or refined to eliminate distractions, or purified of waste — leaving what, it seems reasonable to wonder?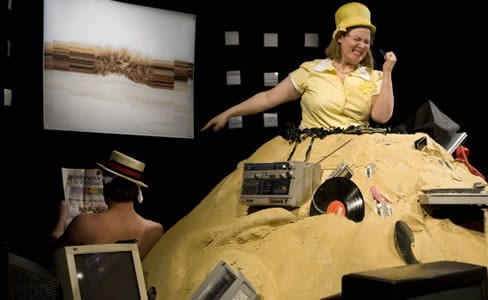 Leaving the face of Karen Lange, for one thing, and her arms, too, during the first act anyway, and a bag containing grooming tools, a bottle of tonic, and a pistol, which could end the play at any minute. She kisses it and sets it to the side.
Lange plays Winnie. She's embedded to the waist in a mound of earth which is strewn with detritus —Polaroid camera, hi-fi turntable, World Book Encyclopedia — like some far final shore. How she got there doesn't matter to the play, and that makes speaking of it reasonably seem naive.
Winnie isn't naive, but she isn't jaded either, and that is what I find so wonderful, as she might say. She says that repeatedly, in fact. When the bell for waking rings, she opens her eyes, says a silent prayer, brushes her teeth, tries to read the words her skin is slowly rubbing off the handle of her toothbrush, fails, takes her glasses out of their case, takes a hanky out of her blouse, wipes her glasses with the hanky, puts it back into her blouse, puts her glasses on and tries to read again. There's so little one can do — one does it all, all one can do. It's human nature. One must have something to do, and one must make her doing last the day, neither finishing too soon nor leaving anything undone.
One senses that, although the arc of Winnie's day is fixed, there's room along the curve to stretch, to turn, to don one's hat, to open one's umbrella, to cajole one's husband, who lies behind the mound in which one is embedded most of the time, though now and then he moans and slides a little to the left or to the right, and three or four times he responds to something Winnie says, and that's what enables her to go on: knowing some of what she says is being heard by someone, knowing that she isn't merely babbling into the emptiness behind the lights, where we sit on hard chairs, thirty of us, watching Winnie's face, a gracious host that welcomes every thought.
The production could be easily mistaken for an installation at the Flashpoint Gallery which contains the Mead Lab. In fact, it is an installation at the Flashpoint Gallery, one created by set designer Joe Klug and art director Ryan Maxwell: a black room, a pyramid of sand with objects stuck to it, a painting of dunes behind the pyramid—or maybe it's a photograph, cut by a line of beach grass that turns into barcodes at both edges. And four rows of wooden schoolroom chairs where people sometimes sit and sometimes watch the woman who sometimes lives in the pyramid, embedded to the waist.
Elevating theater to its bare essentials, one might argue, makes it seem to be there all the time, regardless of us.
Flashpoint Gallery and Meade Theater Lab are overseen by Cultural DC, a non-profit organization whose mission is to "create opportunities for artistic innovation" and to "enable the arts as a driving force to grow and sustain vibrant communities throughout the Washington DC area," according to their website. The organization would like to move artistic endeavor from culture's privileged periphery into the center of sustainable communities, and that means in part providing performance space and production support to people like freelance director Jess Jung, who has directed plays in New York, Washington, Louisville, Maryland, and Chicago.
On the surface, this play doesn't seem appropriate for centering sustainable communities. Its character is flotsam, alone at the edge of human tolerance, deprived of her capacity to even move. "No better, no worse, no change, no pain. Can't be helped," she says, "mustn't complain." Her life is nothing but a repetition of refrains: Mustn't complain; so much to be thankful for; many mercies, great mercies, to speak in the old style; that is what I find so wonderful; but there is, of course, the bag.
And there's the pistol. How does one avoid the pistol? That is, how does one muster the will to make emotional sense out of circumstantial nonsense?
Highly Recommended
HAPPY DAYS
Closes February 23, 2014
Mead Theatre Lab at
Flashpoint Gallery
916 G St NW
Washington, DC
1 hour, 30 minutes with 1 intermission
Tickets: $15
Fridays thru Sundays
Details
Tickets
One speaks. In the second act, embedded to her neck, that's all Winnie can do. "One speaks of it all," she says. "There is so little one can say. One says it all. All one can."
And one believes that some of what she says is being heard, at least for now, some of it anyway. That is what one finds so wonderful, knowing that one is not just babbling into the nothing, though time will come when words must fail.
"Someday I must learn to talk alone," she supposes, "or gaze before me with compressed lips all day long."
Cast your mind forward to the time when words must fail, Winnie admonishes.
But not yet. Not today. As long as we believe we might be heard — not that we are, but only that we might be heard before the bell for sleep rings and we close our eyes — it will have been another happy day.
Elevated to its bare essentials, purified of waste.
—————————–
Happy Days by Samuel Beckett . Directed by Jess Jung . Featuring Karen Lange and Christian Sullivan. Set design by Joe Klug . Art direction by Ryan Maxwell. Produced by Jess Yung as part of Cultural DC. Reviewed by Mark Dewey.
MORE?
Our interview with director Jess Jung