Once you meet Vera Stark you can't forget her.
The title character of Pulitzer Prize-winning playwright Lynn Nottage's 2009 masterwork By the Way, Meet Vera Stark has been lost to the ages—and we are the poorer for it. Smart, talented, determined and with a face that played courtesan to the camera, Vera Stark (an incandescent career high for Dawn Ursula) brought movie star wattage to the minor, stereotypical roles of black maid and servant she played starting in Hollywood's pre-Hays code of the 1930s.
She inhabited every inch of those uniforms and aprons, pouring everything she had into background parts—the only ones available to black actors at the time. While most audiences gazed at the stars, those whose eyes strayed from the center of the frame were rewarded with pure Vera, an actress who could both immerse herself in the role and tacitly comment on its racial inequities.
Vera Stark is a fictional construct, the product of Nottage's imagination. Or is she?
Is Vera Stark the breathing incarnation of all those mostly forgotten, roundly unappreciated black actors who opened the doors for future actors of color and broke through whatever racial barriers they could—the Theresa Harris', Hattie McDaniels', Butterfly McQueens and Louise Beavers of their day? In Everyman Theatre's sharp, gleaming production, directed with buoyance and brainpower by Walter Dallas, you would have to say yes.
Vera Stark lives!—as do her cohorts Lottie McBride (Kelli Blackwell), a former Broadway performer forced to eat her way into Mammy roles and Anna Mae Simpkins (Kathryn Tkel), an ambitious coquette willing to "pass" as Brazilian to get in front of the camera. In Nottage's complex play, everybody is pretending to be something they're not and trying to "pass"—even white actress Gloria Mitchell (Beth Hylton), America's cutie-pie, who rarely drops the mask of a high-maintenance, self-deceptive drama queen.
They all exist for a few hours (but linger in the mind long after) in Nottage's play—an unusual and unusually gratifying combination of wit, sadness and style.
Rarely has being schooled about race issues been so entertaining—and chic. Nottage's play and Everyman's production blows a poisoned kiss at the representation of color in the movies and other cultural arts while paying homage to Hollywood myth and magic.
And it is blatantly, highly theatrical to boot. The show contains iconic footage of the movie that jump-started Vera's career and resuscitated Gloria's—"The Belle of New Orleans"—a groundbreaking (for Depression-era Hollywood) bodice ripper rendered in velvety black and white by cinematographer Thomas Kaufman that recalls "Gone with the Wind" meets "Imitation of Life."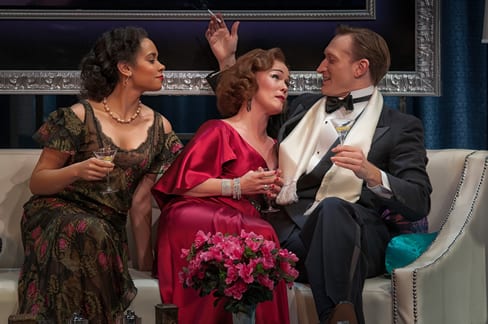 For all the sparkly Tinseltown flourishes in Daniel Ettinger's classic Hollywood creampuff of a set and the George Cukor-like lushness and woman-centric quality of the film clips, By the Way, Vera Stark is resolutely theatrical and would not be nearly so fascinating as a movie or TV show.
You have to see these actors in the flesh, glimpse their layers of fabrication in real life and in reel life. Nothing else will do.
Speaking of stage thrills, when was the last time you saw four—count'em, four—juicy, multi-dimensional, front-and-center female roles in one play? Nottage does this and more, keeping the women's stories as the main focus, with male roles important but tangential. Hey fellas, how does that feel?
Act One borrows the timing and wound-up rhythms of screwball comedy in its depiction of the fantasy of Gloria's life as a star versus the reality of what Vera and her friends are up against. Vera and Lottie serve as maids at Gloria's cocktail party to wow a Louis B. Mayer-esque studio head Frederick Slasvick (played with gruff pragmatism by Wil Love) and an émigré director Maximilian Von Oster (Robert Lyons). The whole thing turns into a satiric farce when Anna Mae shows up as the "Rio Spitfire" girlfriend of Von Oster and all four women descend into stereotypes during impromptu auditions for "Belle of New Orleans." None more than Vera and Lottie, who lapse into stooped, shuffling domestics under the encouragement of Von Oster, who demands "realism."
While these scenes are wildly, painfully funny, the play is at its sharpest when Vera and her friends dish about the realities of the movie biz. They exult over parts of "slaves with lines!" and deride the roles they played that were so dismissive the characters don't have last names. This pointed scene reminds you of Alice Childress' Trouble in Mind, when a group of veteran black stage actresses run down all their former roles—where women were either named after flowers or jewels. No last names for old Petunia or Ruby.
The fanged fluff of the first act gives way to a more bitter realism in the second act. In a Clybourne Park twist, it is 2003 and a university is holding a symposium on the legacy of Vera Stark and the panelist include the usual band of pontificating academics. This is one of the few times the play lets us down, with scenes of pedantic punditry that goes on far too long and reveals nothing.
The action switches between the panelists' commentary and footage from a 1973 Merv Griffin-like TV show featuring the last known appearance of Vera Stark. Clad in a dashiki-patterned gown and looking like a mixture of Eartha Kitt and Abbey Lincoln, Vera seems a bit worn down by life but certainly not out.
The host, Brad Donovan (Wil Love, fabulously fatuous) wants to banter, while fellow guest Peter Rhys-Davies (Robert Lyons, sinuous and clueless a vainglorious rock god), a British blues rocker, just wants to flirt with his fans and the still-foxy Vera.
She, however, feels the need to explain and vindicate herself, and self-immolates with anger. The bile of a stunted career and now being considered a detrimental "mammy" figure spills over the sunny, cheezy talk show set and threatens to burn it down to the shag carpeting—a situation that gets more out of control when Gloria shows as a surprise guest.
Highly Recommended
BY THE WAY, MEET VERA STARK
Closes May 11, 2014
Everyman Theatre
315 W. Fayette Street
Baltimore, MD
2 hours, 20 minutes with 1 intermission
Tickets: $48
Tuesdays thru Sundays
Details
and Tickets
Gloria hasn't changed much—a fur-coated handful still putting on airs—and the sight of her intensifies Vera's rage. Her cry "Tillie is my shame and my glory!" just tears your heart out with its simple, horrible truth.
Not enough can be said about Dawn Ursula's performance. It is a true star turn, showing breathtaking versatility (she sings, she dances, she acts!) and generosity of spirit, both playful and poignant. Beth Hylton has a high time as the hammy Gloria, but lets slip the mask to show us the need and desperation behind the Hollywood gloss. Kelli Blackwell gives Lottie an engaging lilt, but also allows us to see just how hard it is to keep up that guise. And Kathryn Tkel's Anna Mae is a seductive portrayal of a woman willing to be anything anyone wants her to be, just so long as she gets her name up in lights.
Yaegel T. Welch plays the love of Vera's life, trumpet player and composer Leroy Barksdale, with a jaunty air of '30s pizzazz coupled with an emerging sense of race consciousness-raising.
Yet, the play belongs to the women, to Vera Stark's singular trajectory, and to Nottage's message that despite strides in the representation of race in mass media, we still see what we want to see.
In the case of Vera Stark, we see stars.
——————–
By the Way, Meet Vera Stark by Lynn Nottage . Directed by Walter Dallas . Featuring Kelli Blackwell, Beth Hylton, Robert Lyons, Kathryn Tkel, Dawn Ursula and Yaegel T. Welch .  Scenic design: Daniel Ettinger . Lighting design: Harold F. Burgess II . Costume design: David Burdick . Sound design: Elisheba Ittoop . Cinematographer: Thomas Kaufman . Film editor: Chas Marsh . Dialects: Gary Logan . Props Master: Jillian Matthews . Dramaturg: Naomi Greenberg-Slovin . Stage manager: Christopher Michael Borg . Produced by Everyman Theatre . Reviewed by Jayne Blanchard.