Everybody in the pool! It's a pool party of a sublimely archetypal sort in Constellation Theatre's entrancing staging of Mary Zimmerman's Metamorphoses, directed with flair and a fanciful air by Allison Arkell Stockman.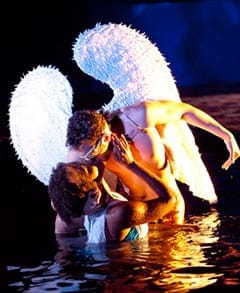 Miss Zimmerman's movement, music and water-based take on Ovid's tales of gods, goddesses and the mortals they dally with seems particularly well-suited for Constellation, which has presented other mythic traditions with opulence and grace in its two productions of The Ramayana. 
A.J. Guban's set immediately transports you out of time and into a classical dream world. Surrounded by blue wave-rippled walls, a trapezoid-shaped pool serves as the roiling sea, the river Styx, a taboo bedchamber, a rich man's expensive plaything, and a puddle of tears.
The idea of water as a central metaphor in Miss Zimmerman's retelling of Ovid works beautifully, since water is the essence of life, something that at once bestows and takes away. Water can symbolize the vastness of the ocean and the droplet of a single, salty tear. It can signify birth and rebirth, or being swallowed up by death.
The pool also provides many magical moments, as the cast appears and disappears beneath the water's surface, often rising up again greatly altered. This simple bit of stagecraft delights, and makes you believe that perhaps the gods and goddesses are really at work. Other pleasures are aural in nature, supplied by Tom Teasley's evocative music.
Metamorphoses begins with Ovid's vision of the creation of the world, which moves from chaos to natural order, until human beings bring words. The play is framed by the story of King Midas (Keith E. Irby), a selfish entrepreneur who literally gets the golden touch, which thrills him at first until his daughter (Jade Wheeler) embraces him and turns into a gilded statue.
The gods tell him to walk to the end of the earth in search of redemption, and we leave him for awhile to experience other tales of transformation. The story of Alcyone (Katie Atkinson) and Ceyx (Michael Kevin Darnall) is one of a love that transcends death. A couple once in "a monotony of happiness," they are torn apart when Ceyx goes off to sea and dies in a shipwreck, harrowingly rendered by a gang of sea monsters who claw him and his crew beneath the crashing waves. Alcyone is desolate waiting for him to return, and in a haunting scene, Aphrodite (Misty Demory) asks Morpheus, the black-cloaked god of sleep, to send her the truth about her husband in the form of a dream. She then pleads to Aphrodite to reunite her with her husband, which she grants by turning them into lissome seabirds.
What's bracing about Miss Zimmerman's play is how she presents the myths unvarnished. Aphrodite— played with majesty and mischief by Miss Demory — is quite the pistol, definitely not amused when mortals pooh-pooh love or do not pay proper respect to her beauty. Poor Myrrha (Megan Dominy) declines to pick a suitor and Aphrodite teaches her a lesson by making her fall desperately in love with her father (Matthew Pauli, commanding in a variety of roles). She's so hot for Papa that she conspires with her nursemaid (Lisa Lias, an astonishing shape-shifter) to have sex with her father, who is blindfolded and drunk during the encounters.
In general, it is a good idea not to tick off the gods. Erysichthon (Mr. Pauli) cuts down a tree sacred to Ceres (Miss Dominy) and she gets him back by making him gut-wretchingly hungry. The image of Hunger (Miss Lias), a wild-haired, skeletal wraith latched onto Erysichthon's back like a succubus will not leave you for a long time. "The godless always want more," appears to be the moral of this tale.
Sometimes, the gods bring it on themselves. Phaeton is played by Jefferson Farber as a spoiled, sulking rich kid who whines to his absentee Dad, Apollo (Mr. Irby) that he only wants one thing — to drive the sun just once. Apollo reluctantly agrees to give him the keys to the chariot, dispensing much advice that Phaeton ignores. Phaeton streaks across the sky in a single blaze of glory, burning himself and the earth up in the process.
The play is not all vengeful gods and hapless mortals, however. A series of enchanting vignettes depict the depths of love. The story of Orpheus (Mr. Darnall) and Eurydice (Miss Wheeler) is told twice, first from the classical perspective as Orpheus descends to the underworld to reclaim his bride, intoxicating Hades (Mr. Pauli) with his music until the god grants him a favor. There is a condition attached, however. Eurydice can climb back up to the land of the living only if she walks behind Orpheus and he never turns to look at her.
The underworld is portrayed as mournfully lovely as shrouded figures and flower-flocked ghosts undulate as Eurydice passes and the tragedy of Orpheus's rash glance is shown hypnotically, over and over as the story changes slightly each time Orpheus recounts his mistake.
The second version is based on a Rainer Maria Rilke poem, which views Eurydice not as a victim, but as someone strangely empowered and strengthened by death. She serves as Orpheus' muse and the source of his creative powers, and is then left to become new and whole in the underworld.
Other magnetic love stories include Eros (Mr. Darnall) and Psyche (Miss Wheeler), who lyrically represent the divine union of when soul meets body. The play also features a sweetly humorous interlude involving two springtime gods, Vertummus (Ashley Ivey, greatly affecting throughout) and the object of his affection, Pomona (Miss Atkinson), who would much rather commune with nature. Vertummus assumes a variety of disguises hoping to woo Pomona, until he discovers the most effective method is just being himself.
Metamorphoses deftly explores the myriad ways in which love changes everything. Constellation's production holds the power of transformation, combining emotion and laughter in a dazzling spectacle that illuminates the persistent truths of ancient myths.
Metamorphoses  runs thru June 3, 2012 at Constellation Theatre, 1835 14th Street NW, Washington, DC.
Details
Tickets 
Metamorphoses 
written and originally directed by Mary Zimmerman
Directed by Allison Arkell Stockman
Produced by Constellation Theatre
Reviewed by Jayne Blanchard
Highly Recommended
Running time: Approximately 90 minutes, no intermission