Werther, the final production of Washington National Opera's 2011-2012 season, features some wonderful music in Jules Massenet's lyrical score. It is beautifully supported by the strong dynamics of the orchestra under the baton of Emmanuel Villaume and the tempered singing of the cast. However, I am still trying to figure out how certain layers of production laid on top of this quintessential romantic work served the story.
The opera is rarely served up to audiences. In the canon of big classical opera, WNO has only committed to four productions of Werther in its fifty-six years. The opera has some challenges, but I went hoping to be "owned" by the great tragic love tale.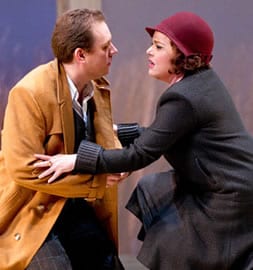 The beginning was most promising. The first few minutes enchanted me when the overture gave opportunity for director Chris Alexander to choreograph a splendid evocation of bucolic innocence. Children ran on at play, mellow light suggested the long sweet days of summer, and our hero Werther walked through fields of gold toward the person he would discover as the woman of his dreams.
The wordless scene set up exquisitely the first big aria where Werther (Francesco Meli) declares himself the sensitive poet-lover of nature and thus the enemy of all that would inhibit his passion. "O Nature, suffused with grace, reign over all creation." Meli thrust his chest into the air like a puffed-out bird in its first love song. This was a man in love with nature and with his own ardor.
German's great writer of the late 18th century, Johann Wolfgang von Goethe, penned the original story about a passionate young poet falling in love at first sight. In the opera, it turns out that the woman, Charlotte, is betrothed to Werther's best friend, Albert. Werther loves her for her goodness, calling her his "angel of devotion" and, in particular, her way with children, a brood of sibling orphans over whom she's assumed the maternal role after her mother's death. Bound to her promises to both Albert and her mother, Charlotte cuts off the barely budding relationship with Werther and, despite her feelings for him, sends him packing. He threatens suicide, and the relationship proves doomed.
To make credulous the coup de grâs passion of Werther, it takes creating a character so highly strung in his artistry and so tightly wound psychologically, that the audience can believe he would not only fall in love instantly with a woman but would kill himself for this love. I think the drama also requires a context where the lead characters can be believed in their life-death struggle between the rigidity of their society's strictures and their own passionate individualism.
Think Spanish El Cid. Think Ophelia in Hamlet. By setting the story in the 1920's, director Alexander only confuses the audience. Wasn't that an era where society was reconfiguring? Didn't it produce a cultural zeitgeist where people broke out from social rules to explore sexual freedom, and where women could find models for new social roles? Playing the drama against a 1920's background made the angst of Werther and Charlotte's fierce loyalty appear overly melodramatic.
One's eyes flipped like a one armed bandit in Las Vegas at the money that was not spared to bolster Alexander's choices, from the period costumes by Montreal's fashion house, Barilà, to the sets by Tony® winner Michael Yeargan. But frankly, certain design choices only added to the confusion. Rather than a high-strung, moody artist, Werther walks in through his fields of gold looking like an ad for Ralph Lauren. While the Chorus in the dinner party scene was decked out appropriately in Erté, I am sad to say the cut and color of Charlotte's costumes made her look dowdy and old enough to be Werther's mother.
To make Werther's instant fixation believable, other costume or casting choices would have helped. It's may be a surface thing, but the director would have done well to "surface her up." Moreover, the production did not find a way to establish their relationship sufficiently to support the idea that this man would ever kill himself over Charlotte.
Another confusion for me happens with that "dinner party" scene. There's some nice staging with multiple interruptions of incoming guests that sets up the tension between Charlotte's desire to escape the bourgeois gathering and her responsibility as hostess. The stage design did not make clear if this was her father's house or her husband's.
Italian tenor Francesco Meli mostly rises above the difficulties and does uncommonly well as Werther, singing beautifully in his WNO debut. He demonstrates great feeling for Massenet's musical lines. Sonia Ganassi as the love interest is also musically adept and possesses special beauty in her floating high notes. Both shape dynamics well, not backing off on the loud notes but also willing to let phrases be soft and delicately fragile.
However, there seems an unintentional conflict in performance style between the two leads and the rest of the cast, and the effect is a lack of dramatic cohesion. Meli and Ganassi both represent a more classical European tradition of projecting operatic roles, in what was mostly a "stand and deliver" style. Many of the other roles are fleshed out in a more "naturalistic" way. One can't help wondering if the latter style doesn't represent a new American brand of operatic performance, for several of the other singers in the cast have come through the Domingo-Cafritz Young Artists Program.
Most successful is the delightful Emily Albrink, who is a breath of fresh air in this opera. From her bobbed hair to her playful exuberance, Albrink represents Sophie, Charlotte's sister, as a woman of the new century. It's her effervescent performance that best realizes Alexander's experiment in translating the opera to the 1920's. She relates to the others on stage with great specificity and physical engagement and thus makes her character totally believable. Kenneth Kellogg, another Domingo-Cafritz artist, is powerfully voiced and also creates a memorable character on stage as a drinking crony of Charlotte's father.
Julien Robbins makes a wonderful patriarch of the orphan brood, filling the paternal presence with vocal and physical largesse and ease. Andrew Foster-Williams as Albert handles the tricky transformation from affable lover to controlling husband with a creepiness that sets in that is chilling.
There was much fine singing, and the arias, especially in the second act, moved with great confidence. Sophie's optimistic aria about life being a blessing stood in wonderful contrast to Charlotte's beautiful ribbon of sound in "The tears we struggle not to shed." In Werther's famous aria, "Why rouse me, breath of Spring," Meli completely wins us over both with his passion and his powerful voice. He releases his anguished notes as if pulling out a knife stuck between his ribs.
But why is acting in opera so damn hard? And is it surprising this 19th century German drama translated to a French language opera reconsidered in a 1920's Anglo-American context creates some particular hurdles for the audience? By the end of the opera, on opening night, most of the audience couldn't go there emotionally, and there were some audible weary sighs and a few titters. Ganassi staggered around, clutching her brow or the furniture. Werther collapsed then rose again to sing again and again despite a large chest wound and inched toward the obvious final flop on the makeshift bed.
These awkward moments aside, Meli and the ensemble deserved the applause for the singing that greeted their efforts at the show's end and for Villaume's stirring musical leadership. We should all carry away much musical satisfaction and remember with fondness Edward Purrington, for whom this production was dedicated, and his work guiding the commendable Domingo-Cafritz Young Artist Program.
Werther plays through May 27th at Kennedy Center's Opera House.
Details
Tickets 
Werther
Music by Jules Massenet
Libretto by Édouard Blau, Paul Milliet, and Georges Hartmann
Adapted from a novel by Johann Wolfgang von Goethe
Directed by Chris Alexander
Conducted by Emmanuel Villaume
Produced by Washington National Opera and The Kennedy Center
Reviewed by Susan Galbraith
Recommended
Running Time: 2 hours 40 minutes with one intermission