Trivia question: what Tony Award was Michael Kahn nominated for in 1983? Second trivia question: who was sitting in front of him at the awards ceremony? I'll reveal the answer to the first question later. The answer to the second question is Harvey Fierstein, who was a somewhat surprising two-time winner that night. His first win was as Best Actor in Torch Song Trilogy, which also won for Best Play. As its author, Fierstein picked up that trophy, too.
As Michael remembers, it was a bit of an upset when Torch Song Trilogy was named over that year's Pulitzer Prize winner, 'night, Mother. (By the way, I will refer to Mr. Kahn as Michael, not only because I know him, but also because he is one of those DC Theatre folk — others being Zelda, Joy, Howard, Eric, Molly — who need no more than the single name for purposes of immediate identification.)
However, the win was as emotional for Michael as it was for Fierstein, Michael relates. To many that night, Michael included, the award meant more than just a tribute to a good play. Torch Song Trilogy was the first explicitly gay-themed play to win the Tony for Best Play. It was also a downtown show that successfully transferred uptown. Very successfully – its nearly three year run was a whopping 1,222 performances. (Trivia questions: where does Torch Song Trilogy rank on the list of longest-running Broadway shows, Broadway plays, and gay-themed plays on Broadway? Answers later.)
All of that said, Michael hadn't thought at any length about the play over the 30 years that followed. When approached by Studio Theatre Artistic Director David Muse about directing at Studio, the first thought was for Michael to direct an American classic from the 50s or 60s. But Michael wasn't particularly interested. After all, he reasoned, he could do any of those plays at his own theatre, Shakespeare Theatre Company. At a certain point, the choice focused on the play that had meant so much to him when it had first come out (no pun intended), and a play that he still feels is remarkably important and accomplished.
When I asked Michael to rate it in the pantheon of great American plays from the 20th Century, he replied that he doesn't talk like that. As I withered at the response, he made the point that Torch Song Trilogy was as important a play to the gay community as Death of a Salesman was to middle-class Jewish Americans. He added that Salesman was meant to be a more universal play than a specifically Jewish play, but emphasized its special importance to a Jewish audience. (By the way, if you think the above is the most withering thing Michael Kahn has ever said to me, you would be wrong. What was the most withering comment? It will be revealed as a bonus before the trivia answers below.)
Torch Song Trilogy, Michael says, is a "tremendously good picture of what we went through and are still going through." He calls it a "brilliantly constructed play." When it is on the cusp of becoming too sentimental, there's a joke. When it veers towards becoming too jokey, there's a moment that is emotionally resonant. As a playwright, Fierstein "really, really,really knows what he's doing."
Michael calls the play "pre-AIDS." Though it was written before the health crisis of the 80s, Torch Song Trilogy was achieving its mainstream, uptown success just as awareness of HIV/AIDS was also going mainstream. Court Miller, the original Ed in the Broadway cast, would die in 1986, just as Fierstein's next play, Safe Sex, which dealt explicitly with the crisis, was nearing production.
It's interesting that, given the accident of Torch Song Trilogy's arrival into the cultural conversation on the heels of what was sometimes called "the gay plague," its thematic concerns were, in some ways, out of step. Michael cites the play's mixed feelings about the sexual liberation of the 60s and 70s. Certainly, a main character who wants a monogamous relationship and a nuclear family was not the norm in gay literature, some of which, as Michael points out, rejected the ideas of monogamy and marriage as heterosexual concepts. What makes the play interesting, Michael thinks, is a sense of struggling to come to terms with differing impulses, the pride-filled vision of a distinct post-Stonewall gay identity and culture, versus the pull toward a more personal desire for a fulfilling intimate relationship, whether or not that is based on a heterosexual norm.
Today, when marriage is at the top of the LGBT activist agenda, Torch Song Trilogy seems eerily prescient, given that most people in 1983 would associate a gay lifestyle more with the film Cruising than with protagonist Arnold's expressed desire to have the kind of life that his widowed Jewish mother had. Another appealing aspect of the play, in Michael's mind, is that it is a very generous play, whose author is "generous to everyone," most specifically including the two straight women who are outside the in-group of gay and bi characters.
Michael and I talked about why it is that a play this important and good isn't produced more frequently. The elephant in the room during this part of the conversation is the length of the play. The performance I saw ended at exactly 11 p.m. Oh, by the way, it started at 7:30 p.m. The buzz about the show, though, which corresponds with my experience seeing it, is that it doesn't at all feel as long as it is. The first two acts of three fly by.
Michael talks about small cuts that have been made. (You mean, it could have lasted even longer?) I noticed the absence of a very Harvey Fierstein-specific line. ("No, I don't have a cold, this is my voice." Or something to that effect.)  Michael allows as how the length caused some hesitation before Studio settled on the choice, and that there are theatres who would be afraid of the length. "I am not. That's what I do," said the director who has produced some of the lengthier O'Neill plays over his Shakespeare Theatre Company tenure.
The bigger hesitation for Michael was finding the perfect actor to play Arnold. "I knew I needed the right actor or the play won't work." (In fact, Michael didn't sign his contract until the second week of rehearsal, so important to him was that part of the dynamic.)  He wasn't looking for an actor who could channel or impersonate the distinctive author-actor. Michael tells me that he auditioned a lot of very good actors. When Brandon Uranowitz auditioned,Michael saw the text come alive with an actor who "wore the character like a second skin."  Thereafter, Michael "never thought of Harvey; I always thought of Brandon as Arnold."
I can't imagine a higher tribute than this Michael offered about his leading man. Casting Brandon reminded Michael of "Liz Ashley in Cat: they were that part," he said, referring to  Elizabeth Ashley as Maggie in the 1974 Broadway revival of Cat on a Hot Tin Roof, which Michael directed.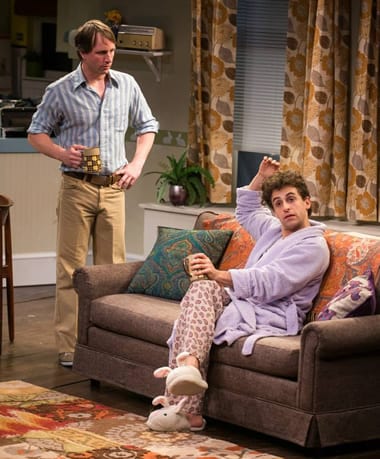 Michael didn't know Brandon before the audition, though Brandon later told Michael that he nsuccessfully auditioned for Michael at Julliard. Brandon ended up going to the Tisch School of the Arts at NYU. At Studio, the day after I had seen the show, Brandon and I spoke about his relationship with the play and the part. Brandon had read Torch Song Trilogy earlier, and it had lived in his consciousness. The play had touched him in ways he was not quite aware of. When the call came to audition, he re-read it alone, sobbing and laughing.  Realizing that Fierstein leaves enormous shoes to fill, he had to let that go: "I'm a different person," who must "approach it like every part" and "find my version."
One thread of our conversation was the marathon demands of such a large part in such a long play. Brandon does get some time off-stage during the three-and-a-half-hour running time. But not much. He talked about his experience in the Broadway musical Baby, It's You, in which he played several roles, and said that that experience, with constant running off, changing, then running back on, was "energetically" taxing in a comparable way. Of course, what isn't comparable is the emotional engagement "beginning
to end" and the length of the show.
Brandon and I spoke after noon on a Friday, as he faced his first "five-show weekend." (Friday, Saturday, and Sunday night performances, plus Saturday and Sunday matinees.) For roles like this, stage stars used to have a matinee cast to ease the burden, and Broadway actors usually have Sunday night off. As daunting as the prospect of the five-show weekend is, and as impressive as it is that he will do those from now until the Oct. 13 close (extension all but guaranteed), you don't feel an ounce of regret from someone so obviously relishing a career highlight, an immensely satisfying artistic opportunity. He tells me that doing this part, perhaps counterintuitively, energizes him. A minor downside he mentions is that, after a performance, he's been Arnold "so deeply for so long," that it takes a while to shake him off after a performance.
Actors don't show up and punch in at 8:00, or at 7:30 if the play is long. Brandon described his hour-long prep, how getting into the drag in which the audience first meets Arnold helps him get "into the headspace" in a very specific manner. He listens to music, a playlist culled in part from the popular songs and operas mentioned by Fierstein in the script, including many names, such as Helen Morgan, from a bygone era. (Trivia question: what is the most prominent Helen Morgan film performance? Hint: it overlaps the answer to a previous trivia question.) Anyway, do the math: three-and-a-half hours plus an hour prep is four-and-a-half hours, times two: on a weekend day, Brandon will be on or back stage at Studio for nine hours.
The inevitable question to any actor playing a drag queen arises: are you a fan of RuPaul's Drag Race? Brandon's answer is an unequivocal and immediate "Yes." He says that he has trolled YouTube and watched some of the Queens who have posted clips about makeup tips. Which have been the most helpful? Again, a quick and emphatic answer: Manila Luzon, followed by a more guarded "and Willam." Brandon then sheepishly qualifies the answer: he at first watched a video from the notoriously disqualified Drag Racer because it was funny; however, he reveals, it also had some really good tips!
Highly Recommended
Torch Song Trilogy
Closes October 20, 2013
The Studio Theatre
1501 14th St. NW
Washington, DC
3 hours, 30 minutes with 2 intermissions
Tickets: $59 – $65
Tuesdays thru Sundays
Details
Tickets
Fans of RuPaul and lovers of theatre will not want to miss Brandon's turn as Arnold Beckoff in Torch Song Trilogy, which runs at Studio Theatre until (at least!) Oct. 13. Details and tickets.  
And follow Michael across the river as he directs the world premiere of Pride in the Falls of Autrey Mill, the new play by Paul Downs Colaizzo (author of last season's hit Really Really), at Signature Theatre. Details and tickets.
Then follow him back to Shakespeare Theatre Company (www.shakespearetheatre.org), where later this season he will direct both parts of Shakespeare's Henry IV. Details and tickets.
And now, to reveal what was the most withering thing Michael Kahn has ever said to me: "I was talking to someone about Timon of Athens. He called it 'TIM-in.' I thought of you."
The fact that I had an exchange like that with Michael speaks to how seamlessly and graciously he integrated himself into the DC theatre community upon his arrival in DC in the 80s. No more prominent theatre-maker has come to this city to run a theatre; and none who has come from outside the community has come to know it as well, as broadly, and as deeply as Michael has, IMHO.
But, before this turns into a legacy article, let's call a halt and answer the trivia questions:
1) Michael was nominated in 1983 as Best Director of a Musical for Show Boat, starring Donald O'Connor. The award that night went (now, and forever) to Trevor Nunn.
2)  Torch Song Trilogy is tied with Sleuth currently at #75 on the list of longest running Broadway shows. However, if you eliminate musicals, the ranking is #17 on a list of straight plays. If you eliminate straight plays,it's #2 on a list of gay-themed plays. The longest running gay-themed play in Broadway history is Gemini, by Albert Innaurato. (An asterisk could go to Deathtrap, which ran longer than Torch Song Trilogy, and has gay characters, but it isn't really gay-themed.)
3) Helen Morgan memorably played Julie in the 1936 film of Show Boat, the version that starred Irene Dunne as Magnolia, Alan Jones (father of Jack) as Ravenal, and the legendary Paul Robeson as Joe. I haven't seen it in 40 years, but, if memory serves, it beats the hell out of the Ava Gardner version. (The '36 version was directed by James Whale, the Brit director of Hollywood films played by Ian McKellan in Gods and Monsters.)
More?