Artful. Brilliant. Irreverent. Simple, yet genius.
Everything—from the writing to the stage direction and the acting itself—is a marvel to watch in the Alliance for New Music-Theatre's salute to Vaclav Havel, a poet, playwright, dissident, and former president of Czechoslovakia and the Czech Republic.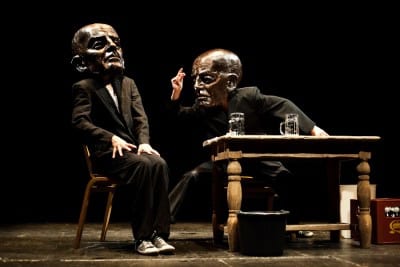 The Vaclav Havel Project offers takes on two of his best known, and most loved, works that center on his alter ego, Ferdinand Vanek: Audience and Unveiling. Here Audience is transformed into the world premiere of Antiwords.
Antiwords, a study in movement, features Mirenka Cechova (also the director), Jindriska Krivankova, and (as you are forewarned) live drinking. The talking is minimal (and in Czech) but nothing needs to be said. Cechova and Krivankova, as two old men, are enigmatic in the use of their bodies to tango through a Saturday night at the pub. The choreography that follows a few too many beers is hilarious.
They meander, stumble drunk to the bathroom, bladders overfull. The shifting of power in conversation flowing with a million emotions. The spilling of beer, nonsensical talk, and even a foolishly amusing table dance and the wallowing in self-pity and "life was better when…" spiel given during a fall into the arms of friends' who will carry us home.
Cechova and Krivankova, wearing life-size bobble heads as masks, capture it all vividly with thought-provoking attention to detail—like the way alcohol seems to fill a person's joints with buoyant springs. As silly as they seem at first, in the end they amplify the truth, and pained humor, of life's discordance.
Antiwords is a multi-layered masterpiece on the authenticity of being made of blood and bone and beautiful thoughts and fears … of being human.
————–
Unveiling is altogether a different beast: a fast-paced, snappy dialogue-infused examination of life and self through the devolution of a dinner party.
Ferdinand Vanek (Drew Valins) shares an evening with his friends, the married Vera (Susan Galbraith) and Michael (Lawrence Redmond), as they "unveil" the interior design redo of their home. Ultimately, they reveal more than just a new color scheme and some choice antiques: they expose the ways in which they judge—and hate— themselves, and only in Ferdinand's acceptance can they find redemption.
Fraught with awkward silence, egged on by the listless Ferdinand, Vera descends into madness while Michael gets on all fours to make a point which turns into a deliciously entertaining pig love-dance—at least, that's the best way to describe it. Like Antiwords, Unveiling is also a multi-layered look at the truth of being human—the vanity, the apathy, the lunacy we all conceal day-to-day behind pretty material things and false smiles. Galbraith's manic Vera, Redmond's nimble Michael, and Valins' awkward Ferdinand are all wonderfully realized individuals that live not just on the stage. They walk the streets—the world over—everyday. We know them.
Highly Recommended
Antiwords and Unveiling
Closes September 25, 2013
Alliance for New Music-Theater}
at Atlas Performing Arts Center
1333 H Street NE
Washington DC 20002
2 hours with 1 intermission
Tickets: $30
Details

and tickets
Both of these pieces were written in an era that is, I confess, before my time and originally set within a culture and political milieu I don't fully understand—other than the Czech's love of Pilsner beer (political unrest or no political unrest). I'm sure there is much symbolism related to living under a Communist regime as the country marched toward a revolution. And, I am sure it is profound in ways I can't fully appreciate given my age and ignorance.
But, Cechova—the director of both pieces  and who was instrumental in bringing them to DC—and her troupe, Spitfire Company, have succeeded in making each one-act profound for America, and its younger generations, in the 21st Century. You don't have to be an aficionado of all things Czech or scholar of history to enjoy the absurdity of Havel the playwright or appreciate the intellect of Havel the revolutionary/politician.
You just have to be—and when art only requires this of you, it is the most moving.
———————-
The Vaclav Havel Project: Antiwords and Unveiling by Vaclav Havel . Directed by Mirenka Cechova . Featuring: Mirenka Cechova, Jindriska Krivankova, Susan Galbraith, Lawrence Redmon, and Drew Valins . Produced by the Alliance for New Music-Theatre as part of the Mutual Inspirations Festival . reviewed by Kelly McCorkendale.
This production performed September 24 and 25 in Washington, DC, and then moves to New York at the Czech Center, 321 E 71st Street, NYC.
Note:  Susan Galbraith is a writer for DC Theatre Scene. It had no effect on this review.
More?
The Czech Embassy is celebrating the life of Vaclav Havel with a month long tribute. Full schedule is here.