"Another Good Irishman Gone."
So read the subject line in the email I received about the death on Jan. 5th of Tom Quinn, a wonderful actor and indelible character, well known and well loved by many in the DC theatre, TV, and film communities.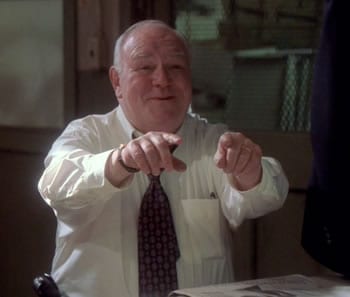 The email was from Robert McNamara, Artistic Director of SCENA Theatre. It was through Robert and SCENA that Tom, who had done some acting previously, found what would become a second (at least) career, beginning with the inaugural SCENA production, Help Wanted by Franz Xavier Kroetz, which opened in the waning days of 1987.
Tom would go on to act all over town, at Woolly Mammoth Theatre Company, Arena Stage, Studio Theatre, Washington Shakespeare Company, and other companies. A Queens-born and bred New Yorker, an ex-boxer, and a proud Irishman, he was a great character "type," wildly useful when anyone needed to cast something involving sports, for instance. He was in Take Me Out at Studio, The Great White Hope at Arena, and the films Major League II (baseball) and The Hammer (boxing). Homicide: Life on the Streets and The Wire made use of his street-wise demeanor.
Many other folks in the community knew him longer and better than I did, but I would like to share a few memories. First, however, here is the body of Robert's email; it had been through taking a class at Georgetown which Robert taught, and then taking a part for Robert's company, that, nearly 30 years ago, while in his 50s, Tom joined the DC theatre community:
"Tom Quinn. Wherever he was there was always a mischievous sense of humor — and, of course, the Irish were never far behind. He was an acting student (mature!) of mine at Georgetown University where he had been a student and also a boxer and athletic Hall of Fame-er.  He had sparred with "Heino"— Max Schmeling's old sparring partner — and told me that he (Heino) had used all the dirty boxing tricks in the book. But Tom managed to hold his own. He always did.
"Once, in acting class, I had the pleasure of directing a scene between Tom and his son TJ, a scene from American Buffalo. They were great. Tom was made for the role of Donny Dubrow. He appeared in the first season and the first show at SCENA Theatre, Help Wanted (as did the presenter of this article, Chris Henley); later Tom was more than notable as the lead in David Mamet's Mr. Happiness at the now defunct dc space. He was outstanding in Vaclav Havel's play Audience, again appearing opposite Chris Henley`s monosyllabic and astute Ferdinand. Tom was an outstanding man, father, and friend. He was a fighter, ex-Marine, New Yorker for life, ex-Air Controller, survivor of a Jesuit education and making films with Norman Mailer. I remember him learning his lines in a classroom at G.U. when we were rehearsing. I turned to Marilyn Beery, smiled, and said, 'No one works harder than Tom.' Indeed he did and made this town and theatre a better place for it."
During the first Gulf War, I took a bullet for Tom Quinn. We weren't in the Gulf, though, we were in DC, doing the above-mentioned two character play, Audience by Vaclav Havel, at SCENA Theatre. Like a lot of 20th Century European plays, the play involved a significant amount of repetition of both action and dialogue. His character would periodically leave the stage to take a leak and then come back, speaking some slight variation of basically the same line. During a run-through, Tom came back in and started lines from a different point in the play. Realizing that we were off-track, I took a slight moment before getting us back on-track. The director, Robert, during the subsequent note session, gave me a note to pick up that cue. Tom and I shared a look of complicity as I said, sure, no problem, I'll come in quicker with the line there.
This was over 20 years ago, and I would have long ago forgotten all about it. But I didn't forget about it, because Tom never did. Whenever we saw each other over the years, he would remind me about it and express his appreciation that I hadn't narced him out about his mistake. "Henley," he would say, "you're one of my all-time favorites. You're a real class act."
Tom was, like Robert, a Georgetown grad and had taken an acting class at Georgetown that Robert taught. Robert was about to launch SCENA with Help Wanted, which consisted of ten short vignettes about the effects of unemployment, each with one or two characters. Most of us in the cast were 20 or early 30-somethings, holding crappy day jobs to subsidize our theatre habits. It was slightly exotic to work with someone who was not only older, but who had had such a colorful past. He had palled around with Pete Hamill and Norman Mailer, appearing, as Robert mentioned, in some of the DIY, low budget films Mailer had made years earlier. He had boxed in the Marine Corp and was poised to participate in Olympic trials before he had to drop that dream due to medical considerations. His record was 25 wins, no losses, and 12 knockouts.
He had a gorgeous townhouse on R St., opposite Dunbarton Oaks. He let us rehearse there, even the scenes that didn't involve him. He hosted memorable cast parties, a big step up from the pizza and beer affairs to which we were accustomed. He travelled in different circles than the rest of us did, and well-known friends of his would come to 14th & S (which was a very different destination in those days) to the first Source space (1409 14th St., NW) where SCENA was then in residence. I remember Kitty Kelley and CBS White House correspondent Bill Plante coming to Help Wanted.
On the same bill as Audience, we did another Havel piece called Mistake. I was in that, though Tom wasn't, and it ended with a fight scene. One night, we ran the fight "one more time" when everyone was too tired, and I took a hard blow to the torso. I got home sore and had eerie flashbacks to another fight scene that had left me with broken ribs. I called Tom, figuring that he might have advice based on his experience in and around the ring. He told me that he had broken 30 ribs over the years, and he gave me his prescription, which he repeated about 5 times over the course of a maybe 10 minute phone call: "Take a shot of Scotch on it and get some rest."
He was in the cast at WSC when I directed Brecht's Life of Galileo. There's that (frequently cut) scene in which the Balladeer and his wife sing a song. I needed everyone else in the cast except Galileo (Jim Zidar) to join in the number, to give Michael Miyazaki and Suzy Richard some backup, and to create the sense of a street fair. After the first rehearsal, Tom called me over. We perched on the lip of the stage, and he looked at me and said, "Henley. [Pause.] Who do I have to fuck to get out of the chorus." And, of course, by opening, he was one of the most memorable participants in the scene. But I'll never forget that delightful actor request.
I'll close with two tributes:
One from my brother, regarding the film of The Pelican Brief, in an e-mail sent about a week before Tom died: "Also with a significant role in that movie is the older guy who was excellent in one of the best things Chris ever did which was the Havel evening that included the play Audience."
The other from Tom's good friend Will Cooke, who posted on Facebook: "A quintessential Irishman, consummate Hoya, NY tough guy, accomplished artist, unequaled story teller, and gentleman to his toes. RIP."