We asked our staff and some friends, which three plays still resonate with them at year's end. While a few took slight liberty with the number limit, we're exceedingly pleased with this final list. Coming soon: Most memorable stage moments in 2016.Which are your most memorable shows? Tell us in the comments.
              20th Century Blues, Susan Miller at
Contemporary American Theatre Festival
If Wendy Wasserstein were alive and well today, you'd imagine she would be writing such warm, witty and cannily perceptive plays as Susan Miller's 20th Century Blues, a world premiere at CATF under the assured direction of Ed Herendeen. It's downright unheard of to see four actresses of a certain age onstage at the same time, much less in a play about such taboos as aging and female invisibility, as well as the vagaries of time and history. What Miller has created is a full, funny play that is generous of heart, attributes found in her earlier work, notably My Left Breast, which was about breast cancer and so much more. Baby boomers in the audience will think Miller eavesdropped into their conversations with friends, so authentic and piercing are the exchanges about growing old (which ain't for sissies), trying to stay relevant, understanding the Millennials—who often are their children—and reflecting back on the 20th century. – Jayne Blanchard
A View from the Bridge, Arthur Miller at The Kennedy Center
The Kennedy Center presented the The Young Vic production of Ivo van Hove's powerful deconstruction of Arthur Miller's A View from the Bridge. If the re-examination bleached-out some of the play's softer colors, it impressively achieved Miller's ambition of giving an ordinary, contemporary man tragic status. The highly-praised production was a must-see event. – Christopher Henley
All the Way, Robert Schennkan at Arena Stage
Here is what history plays do: they remind us who we are, and who we are isn't nothing. In its hour of darkness, as the bombers flew over London, Englishmen watched Henry V, and remembered who they were. In our present darkness, we can watch this play, and remember that to do great things, while difficult, is still within our grasp. – Tim Treanor
All That Fall, Samuel Beckett, part of the Irish 100 festival, Kennedy Center
All That Fall from Pan Pan Theatre was at The Kennedy Center all too briefly. The event was unique, as the play was written for radio and was here experienced mostly in darkness. The glorious text by Samuel Beckett was replete with poignance, strikingly stark images, and wicked wit, an unforgettable meditation on the human condition, and the highlight of my year. – Christopher Henley
Angels in America, Tony Kushner at Round House Theatre
Tony Kushner's Angels in America at Roundhouse – the vision and boldness of the co-production, dreamed up by Olney Theatre and Round House Theatre artistic heads Jason Loewith and Ryan Rillette, made us all reexamine Kushner's two plays. Twenty-five years later, it has moved from being about AIDS to being about many important issues today, including AIDS, but we in the audience were privileged to see one of the greatest plays of the twentieth century reinvented before our eyes. This was in great part due to the fine acting of the ensemble, cherry-picked from the "best of" local talent. I've never seen Sarah Marshall "disappear" so completely into her multiple characters. Mitchell Hébert was a spitting seething tiger of a Roy Cohn, a shocking display of the kind of bullying and vicious slamming emulated by the president elect. Jon Hudson Odom gave such a multi-faceted performance in the character of Belize, moving between a testy, understandably impatient African-American responding to the clueless, tongue-flapping liberal Louis (Jonathan Bock) and then compassionate soulful nurse and friend to Prior Walter (played so honestly and on-the-edge emotionally by Tom Story.) – Susan Galbraith
Creative direction, able to convey a sense of intimacy alternating with cosmic significance.  Always-timely script about the need to heal and find common ground.  Superb ensemble cast.  Particularly liked Sarah Marshall as Ethel Rosenberg.  Great example of artistic collaboration between two local theatres. – two Gary Maker Audience Award recipients
Broadway Bound, Neil Simon at 1st Stage
Director Shirley Serotsky's touching Broadway Bound at 1st Stage was a captivating mix of humor and poignancy, made memorable by the lofty performance of Teresa Castracane as Kate Jerome, the stoic, mid-20th century working-class mother and wife. It's probably my favorite performance of the year and imbued this sentimental look back on America with a grounded, honest compassion. – Roy Maurer
Cloud 9, Caryl Churchill at Studio Theatre
Studio's Cloud 9 gave us Caryl Churchill's outrageous script full throttle, and made it feel fresh, though in fact it is thirty-seven years old. – Tim Treanor
Come From Away, Irene Sankoff and David Hein at Ford's Theatre
This musical tells the true story of how the people of Gander, Newfoundland responded to the thousands of passengers stranded on their small runway on September 11, 2001. Heartwarming, soul stirring music and performances. Never was a musical filled with hope and kindness needed more. It opens on Broadway February 18, 2017. – Lorraine Treanor
Disgraced, Ayad Akhtar at Arena Stage
Few contemporary topics are as fraught with danger as the issues surrounding the Muslim faith and Islamic extremism in the post-9/11 world. Ayad Akhtar's 2013 Pulitzer Prize-winning script takes them head on in a New York City setting. He personalizes the issues in domestic complications involving an apostate Muslim mergers and acquisitions lawyer, his artist wife who admires Islamic art and tradition, and a nephew of the lawyer who supports an Imam he believes is being persecuted unfairly. It leads to a dinner party from Hell between two couples that culminates in a shocking act. It's the kind of play where even as you are thinking "it won't dare go there," it does with arresting dramatic impact. – Steven McKnight
Disney's Beauty and the Beast, Alan Menken, Howard Ashman, Tim Rice, Linda Woolverton at Imagination Stage
Still running at Imagination Stage is the wonderfully sung and acted version of Disney's Beauty and the Beast. We know the songs and we know the story really well, but, you know, when you see it live, up close, and in the flesh, that's really special. Aksel and Ivona Henley-Hardee, ages 4 1/3
Guards at the Taj, Rajiv Joseph at Woolly Mammoth Theatre
Two actors on an austere stage plus director John Vreeke equal nirvana in Woolly Mammoth's revelatory production of Rajiv Joseph's tough, funny, poetic play Guards at the Taj. Two low-level imperial guards Humayun (Ethan Hova) and Babur (Kenneth De Abrew) stand at the marble entrance of the Taj Mahal with their backs to the edifice—forbidden to look at the new structure until sunrise. In the comic, clown-like exchanges that remind you of a South Asian version of Waiting for Godot, the two swap secrets and gossip about the construction of the Taj Mahal and you are lulled by the easygoing banter that you find between lifelong friends and are shocked by the brutality of the second act. You really cannot find a more potent and true pairing as Hova and De Abrew, who portray the realist and the idealist, the straight man and the comic foil, with such openness and poise you feel like you are eavesdropping undetected on a private conversation. What price beauty? What price friendship? These timeless questions are explored—but not answered—in Joseph's devastating play about two lowly men passing the time who get caught up in something much bigger than themselves—and more tragic. – Jayne Blanchard
Happy Hour, machina Ex at Spooky Action Theater
Spooky Action Theater's Happy Hour treated audiences to a brilliant live action gaming experiment saturated with unintentional comedy and unexpected horror. – Ben Demers
Jelly's Last Jam, George C. Wolfe,  Jelly Roll Morton, Susan Birkenhead, Luther Henderson at Signature Theatre
This stunning, rousing show never let up! The dancing and singing "chops" of the cast raised the bar for standards in producing musicals locally. The direction and choreography were superb.- Susan Galbraith
Kick Before You Drown from StealAStep at Capital Fringe
Not just the best show at this year's Fringe festival, but one of the best DC saw all year. StealAStep's stunning display of erotically charged circus acts, thematically linked by the horrors we inflict on ourselves trying to live up to gender standards, marked the debut of what may be a major new physical theatre company. I gasped. My jaw dropped. I can't wait to see what they pull off next. – Ryan Taylor
Knuffle Bunny, Mo Willems, Michael Silvershear at Adventure Theatre MTC
Knuffle Bunny is one of our favorite books. Dealing as it does with the frustration at the inability to communicate when young, and the triumph felt when one finally speaks one's first words, it resonated deeply with us, and director Nick Olcott and choreographer Michael J Bobbitt apparently ensured that Daddies were similarly entertained throughout. Aksel and Ivona Henley-Hardee, ages 4 1/3
La Cage Aux Folles, Jerry Herman, Harvey Fierstein at Signature Theatre
This production of La Cage Aux Folles was as flawless as any of Signature Theatre's most outstanding musicals. It captured all of the humor and heart of the show, including the heart-grabbing Act 1 finale of Bobby Smith singing "I Am What I Am." What made the production truly special was the way the staging and set made the audience feel like it was there in the club, both witnessing the performances and peeking backstage. Also, the wonderful Les Cagelles supporting performers proved once again that there are no small roles in theatre. – Steven McKnight
Little Thing, Big Thing, Donal O'Kelly, Solas Nua
No one in town can compete with Nanna Ingvarsson where quick changes of multiple roles are concerned, as she proved in "the Amish Project."  Ably assisted by Sasha Ollnick, with basically no props or costumes.  Quirky characters, meaningful theme of difficulty of battling political corruption, suspenseful plot with hopeful twist at the very end.  Unforgettable moment:  Sasha carrying off statue of the Virgin (played by immobile Nanna). – two recipients of the Gary Maker Audience Award
Moby Dick, Herman Melville, David Catlin at Arena Stage
My unquestioned # 1 production in 2016 was Moby Dick, Lookingglass' astonishing production at Arena Stage. I opened my review by saying that this may be the best thing you see in theater all year — because it was the best thing I saw in theater this year. I rhapsodized about this play at length in my review, but let me add one other point I consider useful: with the right cast, you can do this on the cheap. Your cast must be athletic as well as theatrically gifted, but a small theater should be able to produce this play and I hope you will. – Tim Treanor
Monsters of the Villa Diodati, Matt Conner, Stephen Gregory Smith
at Creative Cauldron
Fascinating, lurid story based on true events and people, exploring the connection between an artist's personal life and the world of their artistic creation.  Music, singing, and acting all exceptional.  Sam Ludwig a standout as Lord Byron. – two recipients of the Gary Maker Audience Award
Next to Normal, Brian Yorkey, Tom Kitt at Keegan Theatre
Keegan Theater's Next to Normal provided a devastating portrait of mental illness and loss, accompanied by a high energy, belt-filled score. – Ben Demers
Not Medea, Allison Gregory at Contemporary American Theater Festival
Joey Parsons is such a superb actor, her performance can paper over a weak script. But she didn't have to in Allison Gregory's astonishing Not Medea, seen at CATF. Truly "a fierce slap-down about love, lust, motherhood, and forgiveness." Producers:  Not Medea deserves to be seen in our region. – Lorraine Treanor
Joey Parsons gave the best performance by a female actor I saw all year. – Tim Treanor
Pillowman, Martin McDonagh at Forum Theatre
Chilling exploration of relationship of violence and punishment and society's role in both.  Very effective treatment of the audience as "judges" of actions depicted in an enclosed cage-like space on stage.  One of James Konicek's best performances, Maboud Ebrahimzadeh excellent also. – two recipients of the Gary Maker Audience Award
Romeo and Juliet, William Shakespeare by Shakespeare Theatre Company
Not only did this play look newly minted through the production design, Shakespeare's centuries old tragedy was performed with energy and a contemporary edge that enhanced the story of the doomed lovers. Alan Paul's first foray into the Shakespearean canon bodes well for his next effort. His cast, lead by the youthful Ayana Workman and virile Andrew Veenstra, made the play their own from start to finish. – Jeff Walker
Sense and Sensibility, Kat Hamill at Folger Theatre
This (literally) free-wheeling adaptation of the Jane Austen classic novel lit up the Folger Theatre like a shower of fireworks under the fluid direction of Eric Tucker. In keeping with the theme of movement, shapeshifting and Austen's twirly narrative, all of the production's furniture and set pieces are on casters that the cast whips and floats about in intricate patterns that echo the swirl of gossip and commentary surrounding Elinor (Maggie McDowell- AKA Sense) and Marianne (Erin Weaver-AKA Sensibility) Dashwood. The music and the circular, spiraling movement combine to show us what Facebook, Twitter and other social media—with its constant contact and conjecture—would be like in Jane Austen's day. For a play about behaving yourself and practicing decorum, this Sense and Sensibility bursts at the seams with freshness and life. You are drawn into this beguiling English social circle as surely and completely as the characters are—caught up in the whirl and the zig-zagged pursuit of joy.- Jayne Blanchard
The Deep Blue Sea, Terrence Rattigan, National Theatre (London)
At London's National Theatre, the director Carrie Cracknell found great power, delicacy, and resonance in Terrence Rattigan's 1952 play The Deep Blue Sea, making a case for it as a somewhat neglected masterpiece. Helen McCrory's dynamite turn in the lead is a master class in performance, one that can still be appreciated, since a performance was filmed as part of the National Theatre Live series. – Christopher Henley
The Flick, Annie Baker at Signature Theatre
I typically peg the sweet spot for a new play's run time to be around 90 minutes, anything over that and there tends to be some dead air. Yet Annie Baker can write a three-hour play set entirely in the rows and aisles of a movie theatre and I'm so enraptured I could sit and bask all day. The trick of The Flick? Pacing. Baker's a master of keeping action and dialogue coming at a such a clip that it can be juuuuuust to the point of exhausting without crossing it. Her deep dive into the minds and hearts of three stressed-out theatre employees is rich in incident and humanity, and Signature provided a first-rate production to boot, with star turns from the entire ensemble. (Laura C. Harris is shown above) – Ryan Taylor
The Glass Menagerie by Tennessee Williams at Ford's Theatre
Another mother dominated the stage in Ford's Theatre's sensitive and lovely production of The Glass Menagerie. The moving domestic drama that catapulted Tennessee Williams to prominence felt like an intimate chamber piece and was beautifully driven by the appealingly complex lead performances from Madeleine Potter as the suffering matriarch Amanda Wingfield and Tom Story as the restless narrator Tom, a thin alter ego for the playwright himself. – Roy Maurer
Interesting use of "extra" stage space, including overturned chairs on the sides to suggest the attic of the mind.   Also projections.  Thought this was one of Tom Story's best performances ever (along with Angels in America), Jenna Sokolowski also. – two Gary Maker Audience Award recipients
The Hypocrites' Gilbert and Sullivan Shows at Olney: The Mikado and The Pirates of Penzance
Good lord these were fun! As a huge Gilbert and Sullivan aficionado, I was skeptical at first of the twisted up, revamped, contemporized versions of Mikado and Pirates. But after the infectious energy, improvisational approach to the material and engaging performances began, I was hooked. I still prefer my G & S in the D'Oly Carte realm, but like Shakespeare's titles, these already irreverent operettas can withstand a booster shot once in awhile, especially when the Chicago-based Hypocrites are holding the syringe. – Jeff Walker
The Little Foxes, Lillian Hellman at Arena Stage
Directed by Kyle Donnelly, Arena Stage's well-acted ensemble revival was often delicious to behold. The scheming and plotting of the despicable Hubbard siblings portrayed by actors Edward Gero, Gregory Linington and Marg was delightful and accentuated by Jess Goldstein's impressive costumes, especially the stunning scarlet and gold knockout of a dress that Helgenberger wears to open the show. Divine. – Roy Maurer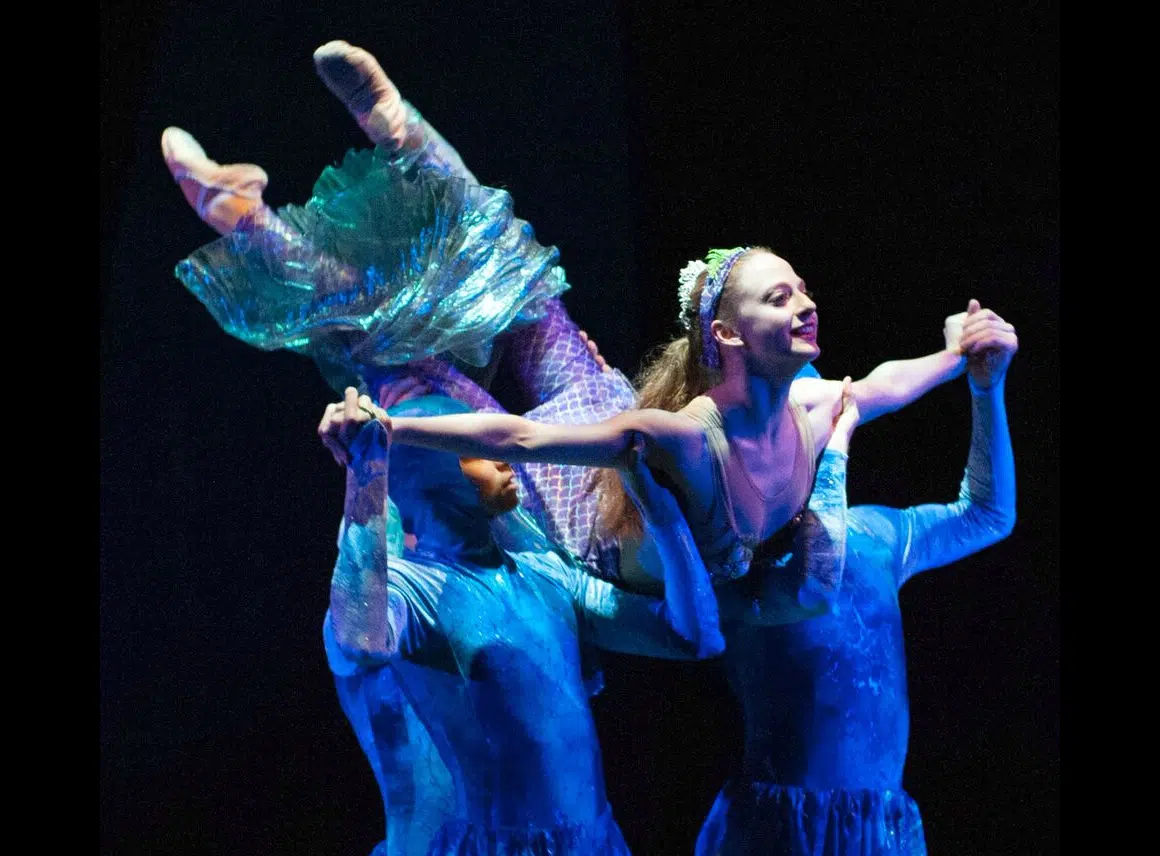 The Little Mermaid, Janet Stanford and Matthew Pierce at Imagination Stage
For sheer inventiveness and theatrical magic that could appeal to all ages, the new adaptation of the Hans Christian Anderson tale of a mermaid who dreams of adventures on land was a treat all the way around. A collaboration between Imagination Stage and The Washington Ballet, Little Mermaid seamlessly blended different storytelling techniques and retold the story with imaginative staging. – Jeff Walker
The Lion, the Witch, and the Wardrobe, adapted from C.S. Lewis by
Le Clanche Du Rand at Adventure Theatre MTC
Somehow, only one girl and one boy (Audrey Bertaux and Chris Dinolfo) magically create a beautifully imaginative world. Like us, they know how to pretend, and how to tell a really good story; maybe it helps having a director named Tom Story. Aksel and Ivona Henley-Hardee, Ages 4 1/3
The Lonesome West, Martin McDonagh, Keegan Theatre
The Lonesome West, Martin McDonagh hilarious journey into a spiritual wasteland where not even Ebenezer Scrooge would dare to go. This first-rate production squeezed every possible laugh out of the script, and the performance of Bradley Foster Smith as the most mean-spirited man in a mean-spirited town was probably the best performance by a male actor I saw all year. – Tim Treanor
The Nether, Jennifer Haley, Woolly Mammoth Theatre
The most thought-provoking script we can recall in more than a year.  Topic of drawing boundaries between social control and individual freedom always timely, placed in disturbing and engrossing futuristic techno context.  Ed Gero memorable as the pervmaster. – two Gary Maker Audience Award recipients
The Night Alive, Conor McPherson at Quotidian Theatre
Quotidian Theatre's The Night Alive painted a portrait of quiet desperation and hope in a dingy Dublin flat, tinged with Conor McPherson's trademark mysticism. – Ben Demers
The Ring of the Niebelung, Richard Wagner at Washington National Opera
WNO's The Ring of the Niebelung – Francesca Zambello's stunning four-part, over seventeen-hour production – was ten years in the making. People traveled from all over the world to see for themselves what was whispered to be a "ring" for the ages. They were not disappointed. The magnificent production featured gods, heroes, and men — and at its center the magnificent Brunhildes (yes, there were three who performed, including the one many speak of as the greatest Wagnerian singer of our time, Nina Stemme!) Not only was the singing sublime, the orchestra made the hairs of my neck stand up and my heart pound. Best of all for this theatre-lover, the acting gave us moments of great nuanced and emotional truth. Who else but Zambello could give us staging highs such as the Valkyries floating down from the skies as aviatrixes with their parachutes or presciently when Alan Held as Wotan appeared in his Trump tower running the universe! – Susan Galbraith
The Who & The What, Ayad Akhtar at Round House Theatre
Ayad Akhtar might be the most important American playwright working at this very moment. The follow-up to his instant-classic Disgraced dials down the tragedy and dials-up the humanity. It's a looser, more relaxed play, tracking the disillusion of a wealthy Muslim family in Atlanta, caused largely by the insurmountable pride of the family's patriarch. The Who & The What is incredibly generous in spirit and humor. Director Eleanor Holdridge and her team brought Akhtar's characters to sparkling life. – Ryan Taylor
Titanic, Maury Yeston, Peter Stone at Signature Theatre
Director Eric Schaeffer has tackled a grand scale musical and has made this lumbering behemoth lift up out of any watery grave and fly. I'll wager this is Schaeffer's directorial best. From its opening "launching" which morphs and builds to a huge anthem, "Godspeed Titanic," the work, with music and lyrics by Maury Yeston, presents the most demanding of scores. Its tricky rhythms, complex lyrics, shifting focus, and multiple-casting ask a lot of the entire ensemble. But Schaeffer is undaunted and has stoked the company to get maximum power and volume out of cast and orchestra. It's as if he has been building his company of regulars to this moment. I was swept away! – Susan Galbraith
Urinetown, Mark Hollmann, Greg Kotis at Constellation Theatre
Constellations's production of Urinetown was so precisely calibrated with a touch of knowingness that it was almost impossible not to laugh. I took a friend — not a musical comedy buff — who was curious about the play's improbable name. He laughed his…well, no, he still has all his body parts, but he laughed a lot. – Tim Treanor
Note: We asked everyone for the plays which were most meaningful to them. We leave the tough job of deciding which were the Most Outstanding for the year to the Helen Hayes judges.
Your turn. Which plays or musicals have been your favorites from 2016? And why? We hope you will share with us in the comments below.
You might also enjoy
DCTS looks at 2016 by the numbers