The Effect is a beautiful rumination on what love is—a combination of naturally occurring chemicals with which the brain floods the body. Or something altogether different. Something controllable. And, therefore, perhaps, less toxicating. 
Tristan (Rafi Silver) and Connie (Katie Kleiger) meet over a couple of urine cups. Yes, like the kind you give to a nurse. It's hardly romantic and, yet, Tristan—a loveable, flirty, goofy guy set on adventuring—sweetens the moment, making Connie, a guarded, overly logical psychology student, laugh. Together, they enter a four-week trial of an anti-depressant, carefully observed, and occasionally counseled, by Dr. Lorna James (Gina Daniels) who Dr. Toby Sealey (Eric Hissom) hired.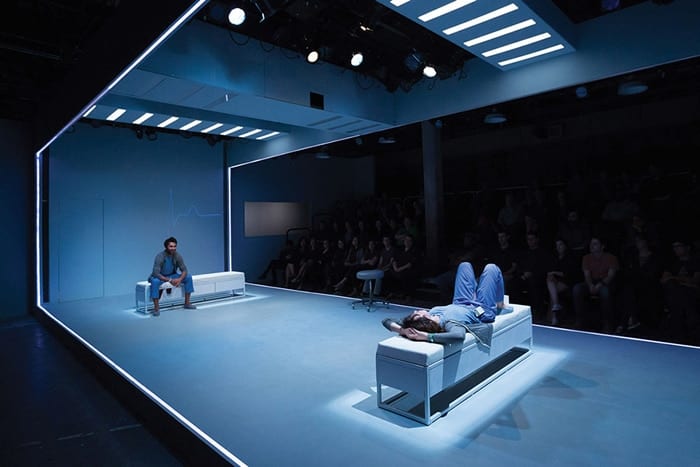 Being shut in for four weeks in an institution-like clinic—where everything is gray or gradient shades of white and full of straight lines, right angles, and just an air of sterility—isn't easy. But Tristan and Connie have each other—sneaking cigarettes and an occasional late-night rendezvous filled with cartwheels and conversations. And they have the drug, which mimics dopamine: the organic stimulant released during moments of excitement and instrumental in attraction, arousal, and love. You can guess where this is going. As the anti-depressant dosage increases, so does Tristan and Connie's desire for each other.
While Tristan is all sunshine, Connie is less optimistic about nearly everything. The here and now. The future. Her relationship—not with Tristan, but with her much older boyfriend. She seems afraid of happiness, avoids questions about her mental state and refuses to acknowledge the joy in her moments with Tristan.
Tristan and Connie, steeped in complete infatuation and infuriation, spar brilliantly. You root for their mutual affection to be the real thing, not a by-product of synthetic forces. Silver is magnetic as Tristan, funny in nearly every scene. Despite her more melancholy, practical approach to everything, Kleiger's Connie is still a warm presence, someone you'd welcome into your life.  
——–

The Effect

closes October 29, 2017
Details and tickets
——–
Dr. James becomes a trustworthy companion to her subjects, revealing a deeply human, considerate woman who struggles to understand the role pain plays in her life by looking at it in others. She is, as Dr. Sealey says, a good doctor. Hissom is an easy-going, persuasive guy who seems to have a dopamine-like effect on the ladies.  At one point, you hear his "pitch" for his drug company, which is running the trial, as he holds a human brain, pointing out that we "think our soul is in here." That makes it difficult to study; how do you objectively study a body part that you consider "self"? And is it safe to medicate it?
David Muse's direction is nothing less than artful. The spare, stylized stage, the slightly industrial music, and simplicity of each scene overlay a complex story bursting with sharp, cutting dialogue that is provocative and thoughtful, funny and emotional, yet deadly serious when it counts.
In one scary, unrelenting day they discover that love is the sum of many things—chance, conversations, cartwheels, encounters, chemicals, self, passion, and compassion. It is both effect and side effect.
Lucy Prebble's characters—all wonderfully real people who, you sense, just want to get through each messy day with a little peace, love, and happiness—are rich in depth and intelligence.
Poignant and original, The Effect is a mind-tingling affair for the heart.
—————-
The Effect by Lucy Prebble. Directed by David Muse. Featuring Gina Daniels, Katie Kleiger, Rafi Silver, and Eric Hissom. Production: Luciana Stecconi, Set Designer; Heather C. Jackson, Costume Designer; Jesse Belsky, Lighting Designer; Ryan Rumery, Sound Designer and Composer; Alex Basco Koch, Projections Designer; Robb Hunter, Fight Choreographer; Adrien-Alice Hansel, Dramaturg; Linda Lombardi, Assistant Director; Corinne Williams, Assistant Stage Manager; Dylan Uremovich, Assistant to the Lighting Designer; Kelly Colburn, Assistant to the Projections Designer; Jessie Cole, Light Board Programmer/Operator; Jenn Nichols, Sound Board Programmer/Operator; Emma Streett, Takeover Board Operator; McCorkle Casting LTD, Casting; Josh Escajeda, Production Manager. Stage Managed by Becky Reed. Reviewed by Kelly McCorkendale.