2020 marks the 8th year of Washington National Opera's showcase of new compositional teams working in the most specialized art form of opera in a rollout of three twenty-minute operas. It's clearly a much-needed service.  Opera companies across the country are searching to develop new talent but, even more, to attract younger audiences. Most of the younger generations seem unready to venture into the "big opera " fold. Even on NPR, as a high brow public service to the arts as the radio station purports to be, when the AOI event was recommended for what was going on this weekend, I definitely heard what amounted to sniggers when the "O" word was mentioned. Mikaela Lefrak of WAMU assured listeners it wasn't going to be like "old fashioned opera," it was going to entertain." I winced.
Good news, the word got out and there were quite a number of young people at the two showcase performances this past Friday night. Bad news, it suggests a trend prevalent in current education of "dumbing down" literature, for instance, hollowing out works of challenging language and literary and moral ambiguity. I have some concerns that a program like AOI may drift similarly into mediocrity and formulaic recipes guided by pop culture references to get people in the door.
More on that in a bit. But, first, let's look at the operas. The three operas all chose to focus on stories of young people caught in familiar contemporary situations or events.
Women of Letters told the story of a young woman, whose father, having lost his wife and brought his little daughter to this country, finds both of them locked in the isolated world of immigrants, and this precarious family may get torn apart when the opportunity to go to a faraway college presents itself to the young girl.  The theme seemed a sound one  because both the female creators were immigrants themselves.
Liliya Ugay's orchestral writing is strong. Ugay also showed a facility for knowing idiomatic conventions of opera with the addition of neighbor girl who enters and rocks out like a Rossini songbird. However, I am not sure what it added to the story.  (We've got Alexandra Nowakowski, this delicious coloratura; let's bring her out for a circus turn?)
The treatment in the libretto of the central figure is less realized. The daughter's passion for and being saved/liberated by the books her father brought home was too generalized for the singer Marlen Nahhas to etch a deeply sympathetic character. The best of the vocal writing was in revealing the father (Samuel J Weiser,) and I was moved by the musical setting of the simple, emotional lines of an immigrant janitor who is invisible, "Do they see me?" and I loved the emotional build when the Father burst out with "What do you know [about this world] This world…where people rob you, where men hurt you."  The whole idea of who sees you as an immigrant, possibly minority, is a powerful and timely theme. The sure move toward the resolution, "Now I see you" shows that the idea for the work is sound and should be developed.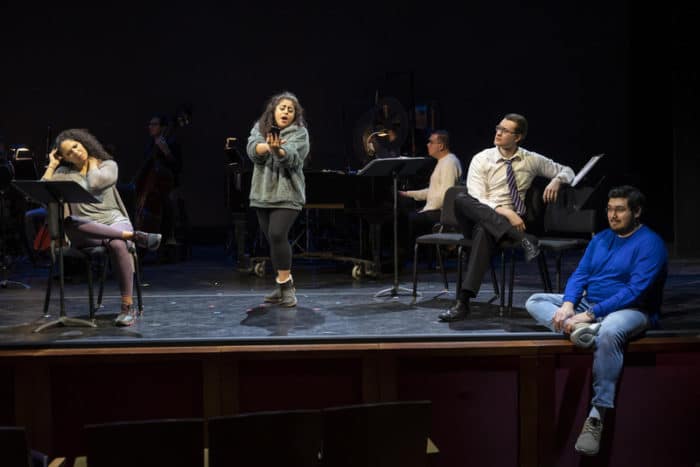 Admissions took its cue from the topical college admissions scandal. A lot of contemporary operas are being written on news events. It's our common coin, it seems. But not all news is worthy of an opera, and I would say this one wasn't. But judging by the happy whooping of the younger audience members who could hang onto the topic but even more could lean into the over-the-top sitcom comedy of the approach, I may be quite wrong. The hilarity of Dad pointing out that he can arrange things so Mom in prison can enjoy silk pillowcases, paleo meals, and Pilates escaped me.  OMG. There was no one to root for in this narcissistic and wildly caricatured family, so why bother?
Team Kim Davies and Michael Lanci shared that they had struggled before landing on an approved theme. I would love to see them have another crack at a bigger idea and story where they would be deeply invested.
Of this year's offerings, Night Trip was the most developed and emotionally satisfying. In great part this was due to composer Carlos Simon knowing well the singer Rehanna Thelwell and writing to let her energy and vocal abilities shine forth.
Thelwell embodied the role of Conchetta, a young Black teenager, who is being driven from Chicago by two uncles to visit her family in Tennessee. Her hopes and her innocence are in sharp contrast to the setting of the American south in the 1950's and the way her uncles, two World War II vets, have to face another enemy in their own country.  The free physical expression of this performer, her clarity with putting across language, and her accessibility to deep emotional pools demonstrates the most important aspect of any performance art form. She's got it all. Thelwell carries the arc of the piece perfectly from radiant innocence to what becomes for us all a heartbreaking "knowing" of the real world.
Librettist Sandra Seaton has provided all the right scaffolding and "winding up" an opera needs, especially one of such short measure. Moreover she writes singable language,  and she knows when to move thing forward and when she can let a singer open up a moment and dive down deeply.
Simon has found, in his jazz-influenced score, opportunities for operatic arias, duets, and trios. He paints with music both the sweetness of a young girl's untarnished dreams at the beginning and then the world that ominously presses against those hopes. He manages to capture the easy colloquial exchanges of the two uncles then lifts the music into a spiritual realm. Is this the balancing act of all opera?
How do you bake an opera?
The AOI program has become a favorite of mine, but I will admit, this time I began to ask a lot of questions not only about the individual works but – more importantly – the process. How do you bake an opera?
It may be a confounding recipe. Let's just start with the time spent. You'd think almost 12 months would be an adequate time. After all, they're aiming for each work of 20 minutes. But the more I learned from Robert Ainsley, director of the program, of how the company breaks down the stages of WNO's timeline for mentoring, I realized how tight,in reality, the timeline was. If people are notified and put in composer-librettist teams in February, and these teams have to come up with a theme sentence which passes muster (and some of these apparently didn't and had to be jettisoned,) the creators must struggle greatly to get through even an approved outline.
In the case of two of the three composers this year, they had each worked with one of the singers assigned them. Writing for a specific voice and artistic sensibility proved a huge advantage.
How much scope can you include in twenty minutes? What kind of arc can you create for a character in that short a time? That thematic sentence has to focus and drive every thought, every event or action, and if the idea picked has not been lived with for long, how does the creative team invest fully in what, in some ways, might seem an academic assignment? And even after the initial scheduled "workshop" in the Fall, bringing the singers and other elements together with whatever input and adjustments need to be made, there must also follow the composer's orchestrations.
This is hard stuff.
The emphasis at the WNO is to give the creators an opportunity to hear their work with an orchestra.  That is a boon indeed. Orchestral players are expensive; rehearsal halls are expensive to rent. So, the other elements of opera – staging, visual design – are set aside because of time and financial constraints.
This year I began to question is that necessarily so? Firstly, in the 21st century, with the predominance of visual literacy and expectations, maybe the size of the orchestra is not always the most important element – for the artists or the audience. More and more works of music-theatre, including opera, are being scored with unusual instrumentation or even electronic music – and yes, I know this isn't what "classical" opera is about – but one has to ask what opera world of the future is WNO preparing artists for and should opera companies encourage thinking more outside the box?
I found some of the writing this year sounding too much like other other writing in the orchestrations. For instance, in the most unusual combination of a Russian composer with a Cambodian librettist in Woman of Letters, what might they have evolved as a sound world if they could have really explored the musical language of their cross-cultural collaboration?
I began to wonder if "fixing" so firmly a process might not contribute to developing formulaic and derivative works.
Ainsley and team work hard to select good mentors to guide the operatic  "cooks" practicing the form.   Laura Kaminsky is one of the hottest composers working today.  Kelley Rourke is a gifted librettist, translator and dramaturg. She is also as gentle and generous as artist "leaders" come.  Anne Manson is a whipper-cracker conductor and you can watch her up there on the podium pour her soul into each and every work to give these brand contemporary scores their just due and a serious hearing.
Clearly we need more support for new operas to be developed, support for the creators to engage with singers and get input and – like a good dough – time to sit and rise. We need more opportunities and more varied incubation processes for the future of opera to gather its full potential. We need more programs and more venues to take chances on this form, and we need more people to take chances, too, by attending new works and listening with new ears.
---
Woman of Letters.  Music composed by Liliya Ugay. Libretto by Sokunthary Svay. With Marlen Nahhas, Alexandra Nowakowski, and Samuel J Weiser. 
Admissions. Music composed by Michael Lanci. Libretto by Kim Davies. With Marlen Nahhas, Matthew Pearce, Amanda Bottoms, And William Meinert
Night Trip. Music composed by Carlos Simon. Libretto by Sandra Seaton. With Rehanna Thelwell, Joshua Blue, Joshua Conyers, Matthew Pearce, and Samson McCrady.
Produced by Washington National Opera American Opera Initiative Festival. Commentary and reviews by Susan Galbraith.