Too bad you can't smoke in theaters anymore. After a few hours witnessing the climactic goings-on in Woolly Mammoth's superb production of Sarah Ruhl's In the Next Room or the vibrator play, a post-coital cigarette is definitely in order.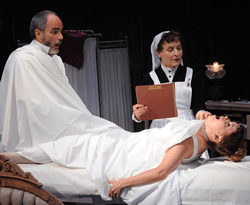 Not that you actually see much sexual activity, although the sound effects emanating from Victorian-era vibrators and prostate stimulators are jarringly explicit. Part of the delight of Miss Ruhl's play and Aaron Posner's direction is the delicate eschewing of raunch for decorum. After all, the employment of vibrators and other stimulations in the play's setting, 1880s New York, was for therapeutic and medical purposes, not for a 19th century version of a BOB (battery-operated boyfriend).
Women of that era were treated for what was called "hysteria"—anxiety, insomnia, general malaise—through the electronic inducement of orgasm, although the pleasurable response was known by the more polite term of "paroxysms." Needless to say, women returned frequently for treatment, some every day.
In the Next Room depicts mechanical bliss, but its buzzworthiness (sorry, I just couldn't help myself) stems from Miss Ruhl's gracefully empathetic treatment of female sexuality and motherhood. With lyrical language and a breathtaking metaphysical leap at the end, this play takes an intimate look at how we are cut off from our body functions and sensations, and how we allow women's bodies and sexual politics to be controlled by men.
It is also wildly, lewdly funny, a farcical costume drama with bustles and corsets and slamming doors, rife with double entendres and sexual innuendo and such weirdly hilarious moments as a doctor blithely recounts an anecdote about Ben Franklin while perfunctorily manipulating a patient to multiple Os.
In the Next Room is not about coming, but about what separates us. Catherine Givings (a radiantly hectic Katie deBuys) is a lonely, restless young doctor's wife, isolated from society and even from what is actually happening in the next room, her husband Dr. Givings' (Eric Hissom, indelible as a distant, older man engrossed by scientific discovery and the miracle of electricity) hygienic operating theater.
In this clinical setting, accompanied by a consummately professional midwife Annie (Sarah Marshall, whose portrayal imbues what could have been a slight character with depth and intuitiveness), Dr. Givings administers therapy to a wide range of emotional ills via an electronic device one patient describes as looking like "a farm implement." No connection whatsoever to sensual pleasure, the sexual act, or even the husbands who bring their wives to the good doctor.  The vibrator is such a breakthrough that it even restores the artistic spark to a dandified painter Leo Irving (Cody Nickell, playing the self-infatuated bohemian with wicked relish).
One such patient is Sabrina Daldry (Kimberly Gilbert, in a marvelously restrained and nuanced portrait of a young woman discovering parts of herself she never even knew existed, her skill all the more admirable when you consider she spends most of the play in the throes of ecstasy), whose archly overbearing husband (James Konicek, smoothly playing a man who does not know the slightest thing about women—and doesn't care) takes her to Dr. Givings in the hopes of reviving his wife's sagging spirits and libido. Sabrina responds, um, really well to the treatment—so well that she is not moved to ignite the matrimonial flames, but instead is content to buzz away the rest of her life with her electronic lover.
Sabrina also enlightens Catherine as to what occurs in her husband's office and in one giddy moment, the sisters are doin' it for themselves. The vibrator has a liberating effect on both Sabrina and Catherine, who reconnects with her body by firing her baby's wet-nurse Elizabeth (Jessica Frances Dukes, quietly powerful as a woman whose body and fertility are used in service to the upper classes) and by taking her sexuality in her own hands.
Miss Ruhl's poetic side, seen most ardently in The Clean Room and Eurydice, is at work in the final scene, where her use of snow to symbolize love and passion comes to full flower. The wall between Dr. Givings' office and Catherine's parlor dissolve as the two gaze at each other, seemingly for the first time, and the snow falls all around them. In one breath-catching moment, the snow blankets them as Catherine revels in the mystery and beauty of her body—and her husband's. In that moment, the doctor becomes the patient and human touch is both the treatment and the cure.
In the Next Room or the vibrator play
by Sarah Ruhl
directed by Aaron Posner
produced by Woolly Mammoth Theatre Company
reviewed by Jayne Blanchard
In the Next Room or the vibrator play runs thru Sept 19, 2010.
For Details, Directions and Tickets, click here.
Reviews:
IN THE NEXT ROOM OR THE VIBRATOR PLAY
DCTS review