Out on a limb, up on a tightwire, off the high dive — Brian Yorkey (librettist and lyricist) and Tom Kitt (composer) took a bold challenge in constructing a musical around an otherwise typical suburban household rocked to its foundation by storms of mental illness.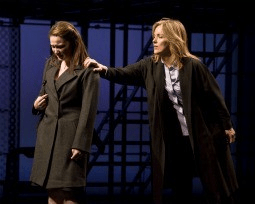 Next to Normal is a harrowing, utterly unsentimental depiction of the anguish and devastation which accompany severe and persistent mental illness. Its strength is the realism – the compassion and sophistication – with which it tells the heartbreaking story of a woman, wife, and mother Diana Goodman (Alice Ripley) whose treatment-resistant bipolar disorder steals her life and paralyzes that of her family.
The tragedies of daily living are the stuff of classic drama and when artfully expressed in musical theatre, the material soars to an emotional level not achievable by speech alone. I was mesmerized by the show at Arena Stage, and not surprised that the Broadway creative team earned eight Tony Award nominations: Best Musical, Book of a Musical, Score (winner), Orchestrations (winner), Director, Scenic Design, Lighting Design and Sound Design, plus an additional three nods to cast members with Alice Ripley taking home the Best Actress award.
Yet, more needs to be said about the production because it now ranks among the elite group of eight of musicals to have received the Pulitzer Prize for Drama.
As Act I opens, Diana confronts her son Gabe (Curt Hansen) as he comes home late again; it's the seventh night in a row she's sat there imaging how he died. No worries now, he's home safe. Then another humdrum day begins as we are introduced to the rest of the family: Diana's doting husband Dan (Asa Somers) and teenage daughter Natalie (Emma Hunton).
But this is not the Ozzie and Harriett Nelson family, the Andersons, or the Cleavers. Diana's assembling ham and cheese sandwiches by the score, on the kitchen table, the chairs and the floor. Dan wonders what clues he might have missed. Natalie is worried, annoyed and embarrassed. Their reactions make it clear that it's "Just Another Day" in a song that quickly establishes the characters and their relationships.
The centerpiece of the show is Diana and her demons. We learn of her nearly two-decade history of bipolar disorder, wild manic sprees, chasm-deep depressions, and psychotic-like breaks and the treatments which have brought only intermittent remission and cold comfort.
Alice Ripley has been playing the role for three years and she seems completely submerged in the character to a dangerous degree, a fascinating tour de force performance melding sorrow, confusion, irony and a world of pain. While her acting is unassailable, her voice at this performance was not the crystal clear instrument with which her fans are familiar, whether from a head cold or vocal strain resulting from the demands of this role. It's disconcerting to think that she and/or the producers might risk further illness or injury to her voice because of press night concerns.
Emma Hunton makes Natalie an enormously believable and sympathetic character. She's a wounded motherless child, alternately ignored by or embarrassed because of Diana. Diana was vivacious and brilliant in her youth (so we repeatedly hear from Dan); Natalie is a prodigy – musically and otherwise. Natalie is gripped by fear of being a "chip off the old block" – but while her mother has taken a 16-year decent into madness, Natalie sets herself on an accelerated program of spiraling into a drug and prescription medicine-induced stupor. Hunton's character is particularly important in relation to all of the characters, except the doctors, and she sings beautifully in the many songs she shares, especially "Superboy and the Invisible Girl" and "Wish I Were Here."
Preston Sadleir plays boyfriend Henry, misfit and a bit of a stoner, with charm, adding a much needed dose of warmth and humor to some of the more toxic, pill-strewn proceedings.
As father, Asa Sommers, a wonderful actor and singer, is alternately stoic and forlorn. While Diana is racing to "keep the plates all spinning," Dan races behind like a cartoon character with a safety net hoping to catch her when she falls. He has so much wonderful material in this show, but "Why Stay?/A Promise" is performed to agonizing perfection.
Curt Hansen as son Gabe bounds with youthful energy around every inch of the set, belying the true nature of his role. Who would suspect that behind the boyish exuberance was seductive malevolence? Hansen gives a forceful vocal performance in both his solo and ensemble numbers.
And there is absolutely no forgetting Jeremy Kushnier as two of the mental health professions (Drs. Fine and Madden) Diana has consulted over the years. Each is clearly intent on helping, but each in his way makes clear to Diana and Dan that the therapeutic goal is stability not cure, and stability may come at a high price. First, as Dr. Fine, Kushnier waltzes his patient to the tune of "My Psychopharmacologist and I," a song interspersed with Diana's full pharmacopeia to the tune of "My Favorite Things." Then he jars the audience into roaring laughter as the "rock star" psychiatrist Dr. Madden of Diana's delusions.
The show sneaks in a textbook's worth of information about mental illness symptoms, treatments, adverse effects and outcomes. This knowledge undergirds the truth behind a beautiful ballads, "I Miss the Mountains" (you can watch Ripley's astonishing performance below.)
The scenic design by Mark Wendland is stark and spare, an erector set of steel platforms and staircases forming the skeleton of a single-family home, two stories plus an attic atop to hold who knows what family secrets. Chairs and set pallets glide from back of the stage or the wings to create a kitchen, living room or office, allowing the story to progress at a cinematic pace. The walls are giant screens with a Lichtenstein-inspired motif that slide and pivot to form each new required space. Kevin Adams's lighting design perfectly complements the set, most dramatic when piercingly clinical or changing the opacity of the walls to heighten the surreal atmosphere of a scene: the haunted pair of eyes looming over the house capturing the pain and foreboding within.
"Who's Crazy?" the song title asks. The answer: Any fan of musical theatre and/or serious drama who lets this show slip by.
Next to Normal plays thru July 10, 2011 at The Kennedy Center, 2700 F Street NW, Washington, DC.
Details
Tickets
Next to Normal
Book and lyrics Brian Yorkey . Music by Tom Kitt
Directed by Michael Greif
National Tour at the Kennedy Center for the Performing Arts
Reviewed by Gary McMillan
Highly Recommended.
Running time: Approximately 2 hours, with one 15-minute intermission
Related:
Next to Normal National Tour
Richard Seff reviews NYC production of Next to Normal
Joel Markowitz interviews Alice Ripley
DCTS review of Next to Normal at Arena Stage

Other reviews