"She was fun to be onstage with. She was always there, and giving and generous." I was talking to the actor Henry Strozier, long-time member of the Arena Stage acting company, about his friend and colleague Tana Hicken. They acted in dozens of plays together over the years at Arena. When news came last month that Hicken, who left an indelible mark on DC theatre over more than forty years on Washington stages, had died, I sent a private Facebook message to Strozier and asked him if he would share some memories of her.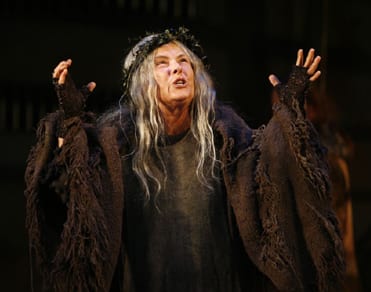 "I hadn't seen Tana for three years," Strozier told me. At their last meeting, Hicken had joined Strozier and his family at the celebration of his 70th birthday.
Observing that there are other people who have known her better, and more recently, than he, he remembered the event: "It was the same old Hicken. That's what I called her."
Strozier estimated that they had done 24 or 25 plays together, "probably more." He joined the company in 1982. "The only reason I got in there was because Prosky had left and they needed someone to stick in there," he continued, referring to Robert Prosky, the Arena mainstay who made the leap from Arena to film and Broadway after his breakout performance in the 1981 movie Thief starring James Caan.
As many readers will remember, Arena Stage in its first few decades was defined not only by the Eurocentric taste in plays of founder Zelda Finchandler, but also by its actors. At that time, it was those members of the Arena company, and just about only them, who made a living primarily as stage actors while living in Washington. Richard Bauer and Halo Wines, Stanley Anderson and Howard Witt, Gary Bayer and (another Arena actor who conquered New York and Hollywood) Dianne Wiest were the actors I remember best from the 1970s.
In the 1980s and 1990s, there were newer ones, such as Tom Hewitt and Casey Biggs and Pamela Nyberg, but none are better remembered or more accomplished than Henry Strozier and Tana Hicken. In fact, at the same Helen Hayes ceremony at which Strozier took home a trophy for Turgenev's A Month in the Country, Hicken got one for O'Neill's Long Day's Journey into Night.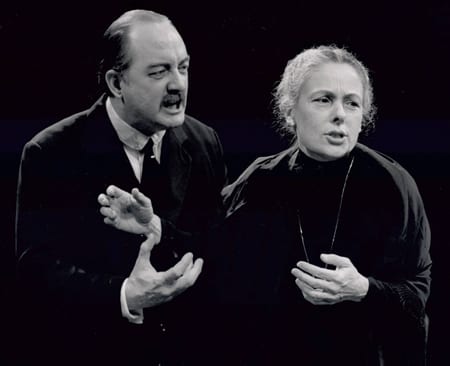 As Strozier remembers, "She could pretty much work with anybody, but she didn't suffer fools very well. If she didn't like someone, she'd let them know it. She always hated management." Attributing her outspokenness to her "Antioch training," he contrasted her activism to his own less engaged attitude. Whereas she was vocal at company meetings, he disliked attending them so much that he told long-time Arena producer Guy Bergquist, "I'll pay you my hourly salary if I don't have to go." But Hicken "wanted fairness for the actors and she jumped all over management." He gave an example: "'If that stage was raked any more heavily, the actors would slide like penguins right into the audience!' She was blunt, by God. I admired that. Although she was from Alabama, I think of her as very New England."
Strozier adopted a comically timid voice as he described his own reaction when told one season that actor salaries couldn't rise: "That's okay!" Hicken? "She ripped the hair off their chests. She was kind of wild — in a good way."
The other quality Strozier stressed was Hicken's humor. Remembering a stage adaptation of All the King's Men, he said, "She made the evening so enjoyable. She would break me up. Our Town was even worse! I loved that play. I cried every night." But Hicken, who played his wife, leavened the poignancy with off-stage laughter: "She was a funny, funny person. One of the funniest."
Another hallmark of the acting company at Arena was the fun of seeing actors play a lead in one play and a tiny part in the next. (I remember, in particular, seeing Stanley Anderson, after a season in which he played Marc Antony and Biff Loman, among other roles, follow them by playing a five-minute part in a Russian play called The Ascent of Mount Fuji.) Strozier told me about a production of You Can't Take It With You, which he described as one of two plays that are "actor-proof," the other being Of Mice and Men.
Anyway, Arena's then out-going Artistic Director Douglas C. Wager had directed it at the Guthrie Theatre in Minneapolis where Strozier and Hicken played the cameo roles of the upper-crust couple whose son wants to marry into the eccentric Sycamore family. Strozier, during rehearsals for the remount at Arena, paused for a laugh. Hicken looked at him and wryly tweaked: "Did you get a laugh there?"
Humor aside, and at the opposite end of the spectrum, the Hicken/Strozier pairings that may be most indelible to Arena audiences might well be the two Strindberg plays they did together, The Father and The Dance of Death. Heavy stuff. The latter was directed by avant-garde icon JoAnne Akalaitis. I asked how Hicken got along with Akalaitis and her idiosyncratic process. "It didn't faze her at all, all the little exercises with JoAnne in leotards, dancing around and touching pieces of furniture. I loved the play and thought we did a pretty good job of it."
__________________
A Tribute to Tana Hicken
Celebrating the Life and Work of
an Actor, Activist, and Friend
Monday, September 29, 7:00 p.m.
Studio Theatre
1501 14th, NW
Washington, DC 20005
With personal tributes from comrades and colleagues,
including actors Phillip Goodwin, Henry Strozier,
and Holly Twyford, and directors Donald Hicken
and Joy Zinoman.
Seating is limited.
RSVP to reserve your seat here
__________________

Hicken's final performance was in 4000 Miles at Studio Theatre last year. In an interview with Nelson Pressley for The Washington Post, she intimated that it might be her last play. It seems that that was before she received the diagnosis of the auto-immune disorder that took her life at the relatively young age of 70. I inferred from Strozier that her friends had become aware, close to the end, of the seriousness of the illness and of the possibility that "Tana isn't going to make it."
After Arena disbanded the acting company about 15 years ago, Hicken stayed in the area, working at places like The Shakespeare Theatre and Theater J. Her husband, the Helen Hayes Award-winning director Donald Hicken, heads the theatre department at Baltimore School of the Arts. That marriage, by all accounts not only long but also very happy, was her second. She had been married to the actor Anthony Heald. (Well remembered on stage for creating roles in Terrence McNally plays like Love, Valor, Compassion and Lips Together, Teeth Apart, he also has a place in film history as the unfortunate fellow about whom Hannibal Lechter utters the iconic "Having an old friend for dinner" line in The Silence of the Lambs.)
Strozier took a different path. He lives in Brooklyn now. He told me he's not doing theatre anymore, but he is keeping busy with film and TV work, having appeared on Sex and the City, Law and Order, and Damages, among other series. Also in demand as a voice-over artist, he was nominated this year for an Outstanding Narrator Emmy Award for the series Too Cute on Animal Planet. (He lost to Jeremy Irons, as did the other nominees: Jane Lynch, Whoopi Goldberg, and Daniel Craig — not bad company!)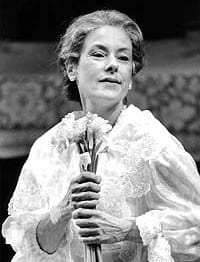 Strozier told me that he intended to come down for the memorials for Hicken; the first was held on September 15th in Baltimore and another will be held here at Studio Theatre at 7 p.m. on September 29th. He said he hadn't been back to Washington since the ceremony for the re-opening of Arena after its renovation: "Good Lord, how huge that thing is! I remember most seeing Zelda and getting very moved." He considered how much has changed since he left Arena. "It's amazing. There are so many people I don't know. I look at the list of Helen Hayes nominations and think, 'I don't know anyone.'"
His thoughts returned to Hicken and he became quiet as he spoke about how devastating the loss must be for Donald Hicken. He spoke again of their last meeting, about how she had brought to his birthday celebration a picture of the two of them in The Marriage of Bette and Boo, another show they had done together at Arena of which he has fond memories. "One of my favorite shows of all time with a wonderful bunch of people. It was great to see her. We had a lot of laughs. Oh, my." Considering her place at Arena during their time there together, Strozier concluded, "I think of her as the leading actress of the place."
————————————-
Everyman Theatre's photo montage of Tana Hicken