Justin Weaks is well-known to DC audiences these days. He's worked over 20 productions since 2015, won a Helen Hayes James MacArthur Award in 2017 (Word Becomes Flesh), and, after finishing up Dominique Morisseau's  Pipeline at Studio Theatre, will take on This Bitter Earth at Theater Alliance starting February 22.
Amidst this busy schedule, Weaks chats with DCTS about his routines, his work-life balance, and what might be coming soon. But first …
Tell us about growing up in North Carolina.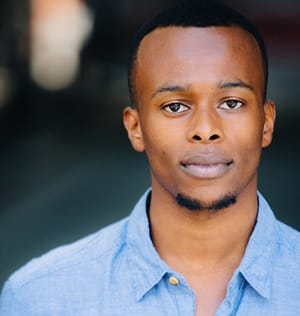 I was born and raised in Concord, right outside of Charlotte. Small town life with the perks of living on the outskirts of a major city. My mother worked in Charlotte so I was exposed to the museums, attractions, and performance art that the city had to offer. It's NASCAR country, so I could hear the races from my house. The S&D Coffee headquarters are right down the street from my house, so the neighborhood smelled like strong coffee a lot. And nothing beats southern cooking!
How do you begin visioning a character? What resources and training do you draw from? How do you develop the physicality?
I begin with the text. I make note of all the facts that the playwright gives about the character. Sometimes it's not immediately clear, but I try to articulate the character's "want" as best I can. I write down everything that other people in the play say about me and everything I say about myself. I note whatever questions I might have—there are usually a lot. And I begin from there.
Unless the script indicates specifics about the character's physicality, I don't consider the physical life of the character until I'm in the rehearsal room and on my feet. As I work on the play, I trust that the physicality will fall on me. As we rehearse, I try to expose myself to other works of art: more theater, visual art, dance, whatever. It informs the work. Some of my physicality in Pipeline is lifted from an exhibit I visited at the National Portrait Gallery.
You play the teenage Omari in Pipeline. Tell us about him:
Omari is a high school student whose life gets caught in the balance after a physical altercation at his new school; a private prep school where he is one of the only students of color. He is a young man coming into consciousness. He's trying to become a man on his own terms. That's the long and short of it.
How did the character evolve from the Omari you had in mind before rehearsals began.
It's still a work in progress. Every day I learn more about the depth of his intellect. I continue to mine the ways in which he loves and the ways in which he wants to be loved. I have a fuller understanding of his rage, its source, and its triggers. Dominique describes Omari as having "rage without release." Part of my process required finding his rage and then putting it back in the bottle. That's very tricky. I'm still calibrating.
What are some lessons/insights you've gained from working with Pipeline director Awoye Timpo? 
At the beginning of our process, Awoye wanted us to keep in mind that our brains cannot hold space for both curiosity and judgment simultaneously. I have become a more curious actor by working with her. I've learned about the art of collaboration watching her work. She is a director and a woman who is in touch with the divine in her work. Working with her was a blessing. A blessing.
While onstage in Pipeline , you're rehearsing This Bitter Earth at Theater Alliance. I'm told you gave it a quick 'yes.' Tell us about Jesse and what convinced you to fit the play into your schedule.
Theater Alliance is home for me. Harrison Rivers has written a deeply complex, rich, and layered story about two men navigating how to love each other with the world, seemingly, crumbling around them and creating a wedge between them. I'm moved and excited to give voice to a gay, Black man's revolutionary act of just existing in the world. We don't see it enough on our stages. We don't see it enough in our communities; "our" meaning "Black." It means something to me to do this work in Anacostia.
I absolutely adore Raymond Caldwell and where he is taking this company. His voice, his intellect, his heart, his presence is needed in the American Theatre. The world ain't ready.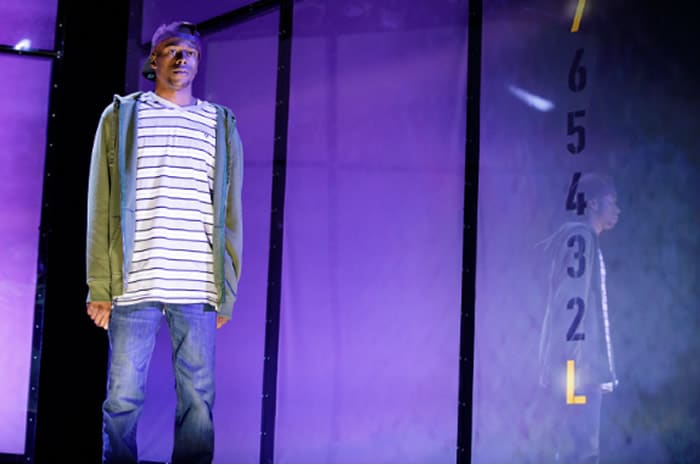 You've done this 2-play feat at least once before (performing the solo play Long Way Down at The Kennedy Center while rehearsing Gem of the Ocean). How do you create the head space for that?
That's a great question, and I wish I had the answer. I just try to be gentle with myself. It's more of an exercise in trust than anything else. Trusting myself, trusting my director, and trusting the process to be what it needs to be. I make sure I spend time in solitude, away from noise. And I try to take care of my body as best I can.
Can you tell us about a role where you learned something surprising about yourself? 
What Omari has been teaching me about my own rage and its source has shaken and shifted me. In order to get in touch with his rage, I had to confront my own. That's difficult to do when you've been raised and conditioned in a society that tells you to fear the depth of your own rage and hurt. I've had to come face to face with myself in a way I was not expecting when coming into the process.
What do you do to maintain your health and energy?
I take lots of naps. I've gotten a lot more critical about what I feed my mind and body. Meditation is key. Epsom salt baths are everything.
What's a fun day look like for you? 
Waking up when my eyes pop open. Going for a long walk. Cuttin' up with my friends. Getting a fried chicken plate at Bantam King. Soaking in a bath. Watching something funny on TV. I'm a simple man.
What roles do you wish someone would offer you?
My dream role has yet to be written. It was my very first role in college, but I'm dying to take another stab at Guy in Pearl Cleage's Blues for an Alabama Sky.
When we last talked in 2018, you said being on stage feeds you and you're okay with holding off on TV or film roles for a while. Has that changed?
The theater will always be home. But, yes. I have my eye on the film and television landscape. I'll be dipping my toes in those waters very soon!